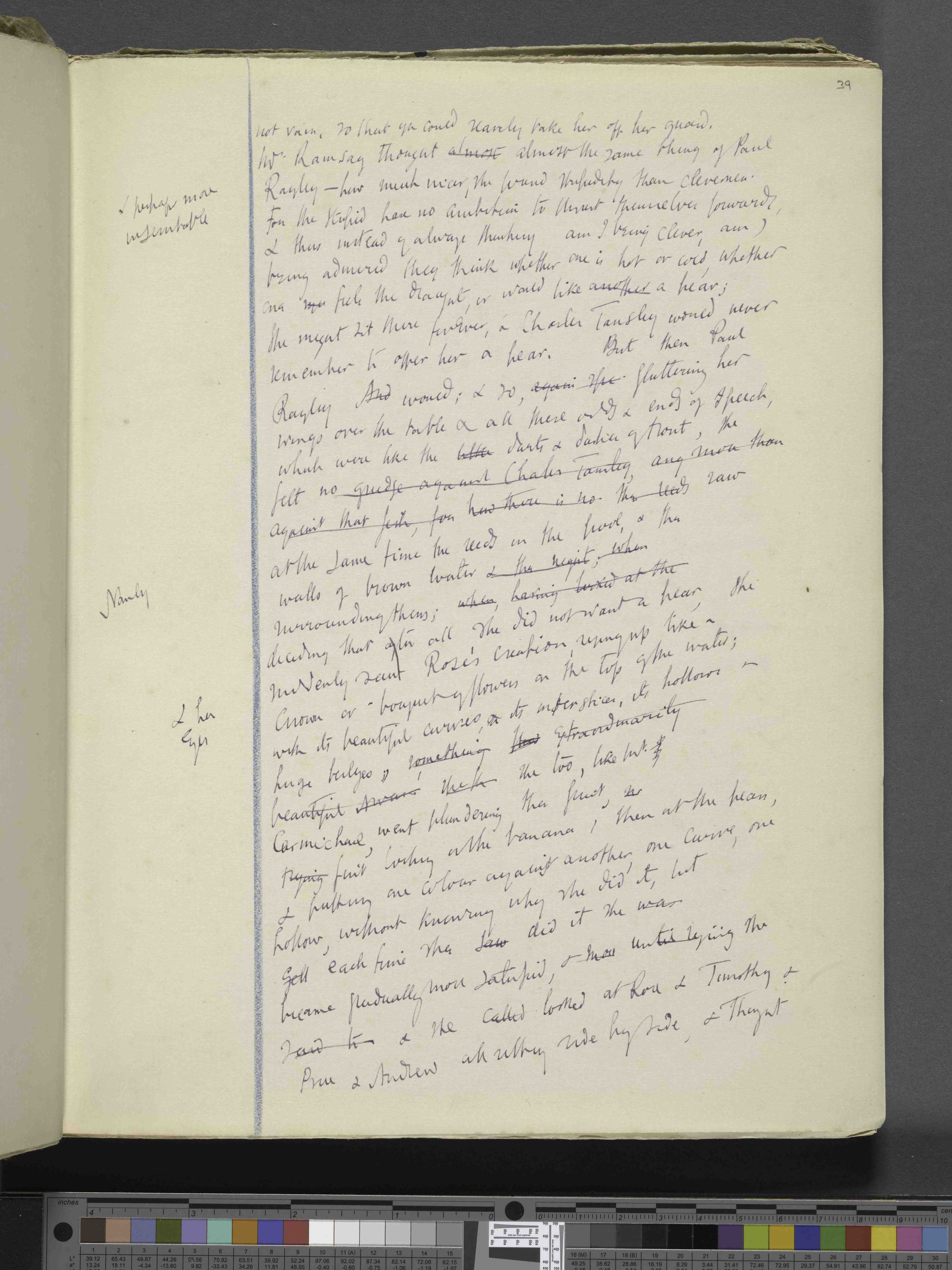 39
not vain, so that you could scarcely take her off her guard.
Mrs. Ramsay thought

almost

almost the same thing of Paul
Rayley - how much nicer, she found stupidity than cleverness.
& perhaps more
inscrutable
For the stupid have no ambition to thrust themselves forwards,
& thus instead of always thinking am I being clever, am I
being admired they think whether one is hot or cold, whether
one

mu

feels the draught, or would like

another

a pear;
She might sit there
forever, & Charles Tansley would never
remember to offer her a pear.
But then Paul
Rayley
And

would; & so,

again

spr
fluttering her
wings over the table & all these odds & ends of speech,
which were like the

little

darts & dashes of trout, she
felt no
grudge against Charles Tansley,
any more than
against that fish, for

how there is no

The reeds

saw
at the same time the reeds in the pool, & the
walls of brown water

& the night,

when
Nancy
surrounding them;

when,

having looked at the
deciding that after all she did not want a pear,
she
suddenly saw Rose's creation, rising up like a
crown or bouquet of flowers on the top of the water;
with its beautiful curves, & its interstices, its hollows &
huge bulges;

something

the

extraordinarily
& her
eyes
beautiful

it was

she pl

she too, like Mr.
Carmichael, went plundering the fruit,

n
trying

first looking at the banana, then at the pears,
& putting one colour against another, one curve, one
hollow, without knowing why she did it, but
gett

each time she

saw

did it she

was
became gradually more satisfied, &

more

until rising

she
saw to

& she

called

looked at Rose & Timothy &
Prue & Andrew all sitting side by side, & thought