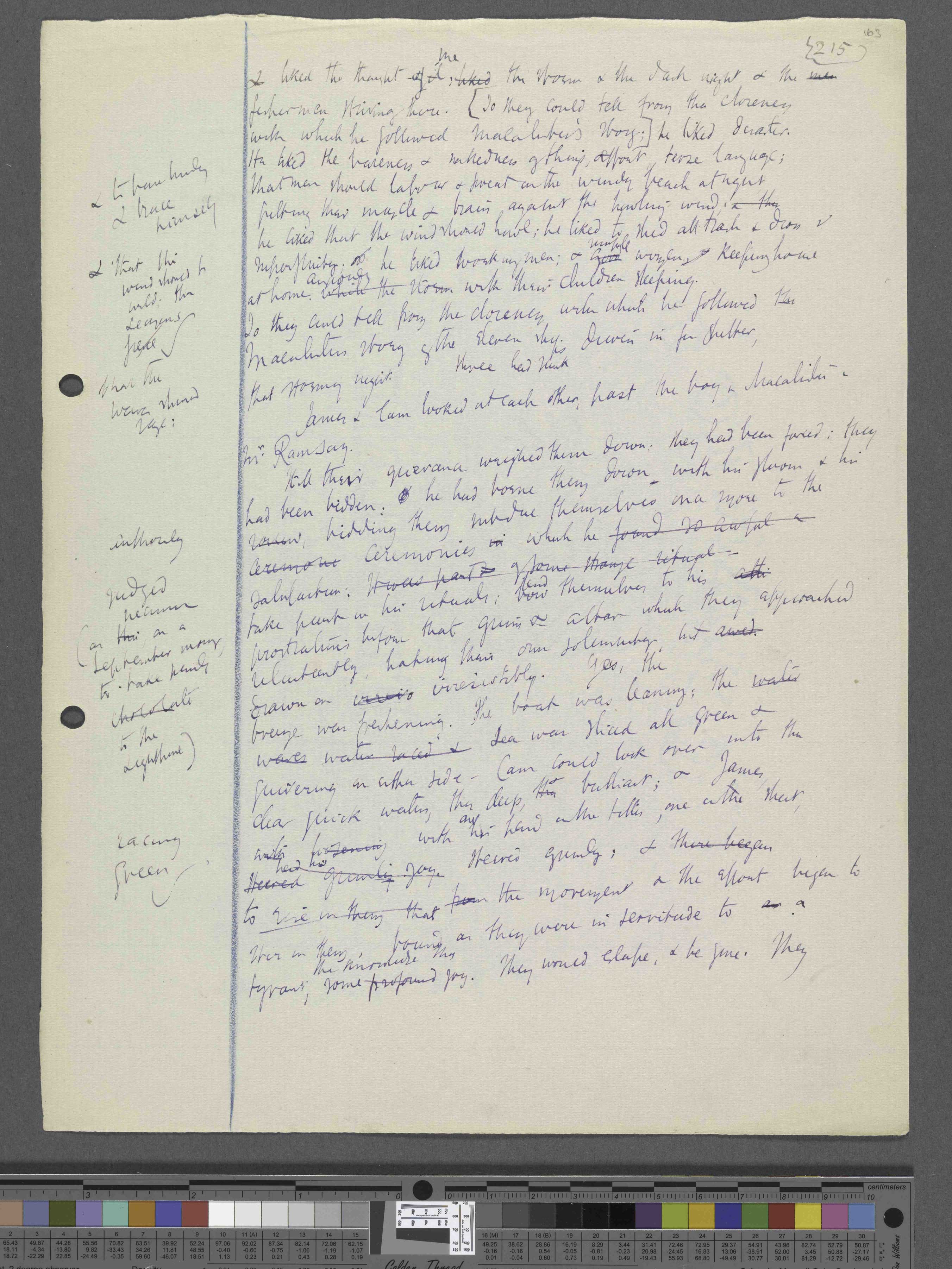 215
163
the
& liked the thought

of it;

liked

the storm & the dark night & the

men
fishermen striving there. [So they could tell from the closeness
with which he followed Macalister's story;] he liked desaster.
He liked the bareness & nakedness of things;

[?]

effort, terse language;
that men should labour & sweat on the windy beach at night
pitting their muscle & brain against the howling wind.

& the
he liked that the wind should howl; he liked to shed all trash & dross &
simple
superfluity.

&

he liked working men; &

good

women

, &

keeping house
anxiously
at home.

while the

storm

with their children sleeping.
So they could tell from the closeness with which he followed

the
Macalisters story of the eleven ships
driven in for shelter,
Three had sunk
that stormy night
& to ?bare ?himself
& brace
himself
& that the
wind should be
wild; the
seasons
fierce
that the
waves should
rage:
James & Cam looked at each other, past the boy & Macalister &
Mr. Ramsay.
Still their grievance weighed them down: they had been forced: they
had been bidden:

&

he had borne them down with his gloom & his
sorrow

. bidding them subdue themselves once more to the
ceremoni

ceremonies

in

which he

found so awful &
satisfaction.

It was part of some strange ritual

-
bend
take part in his rituals; bow themselves to his

atti
prostrations before that grim

&

altar which they approached
reluctantly, hating their own solemnity, but

awed.
drawn on

irriv

irresistibly.
Yes, the
authority
judged
necessary
(on

this

on a
September morning
to take [?]
chocolate
to the
Lighthouse)
breeze was freshening. The boat was leaning; the

water
waves

water raced &

sea was sliced all green &
quivering on either side - Cam could look over into the
clear quick ?waters, the deep,

the

brilliant; & James,
&
one
with loosening
with his hand on the tiller, one on the sheet,
had his
steered

grimly joy.

steered grimly; &

there began
to rise in them that

from

the movement & the effort began to
?stir in them, bound as they were in servitude to

an

a
the knowledge the
tyrant, some

profound

joy. They would escape & be gone. They
racing
green