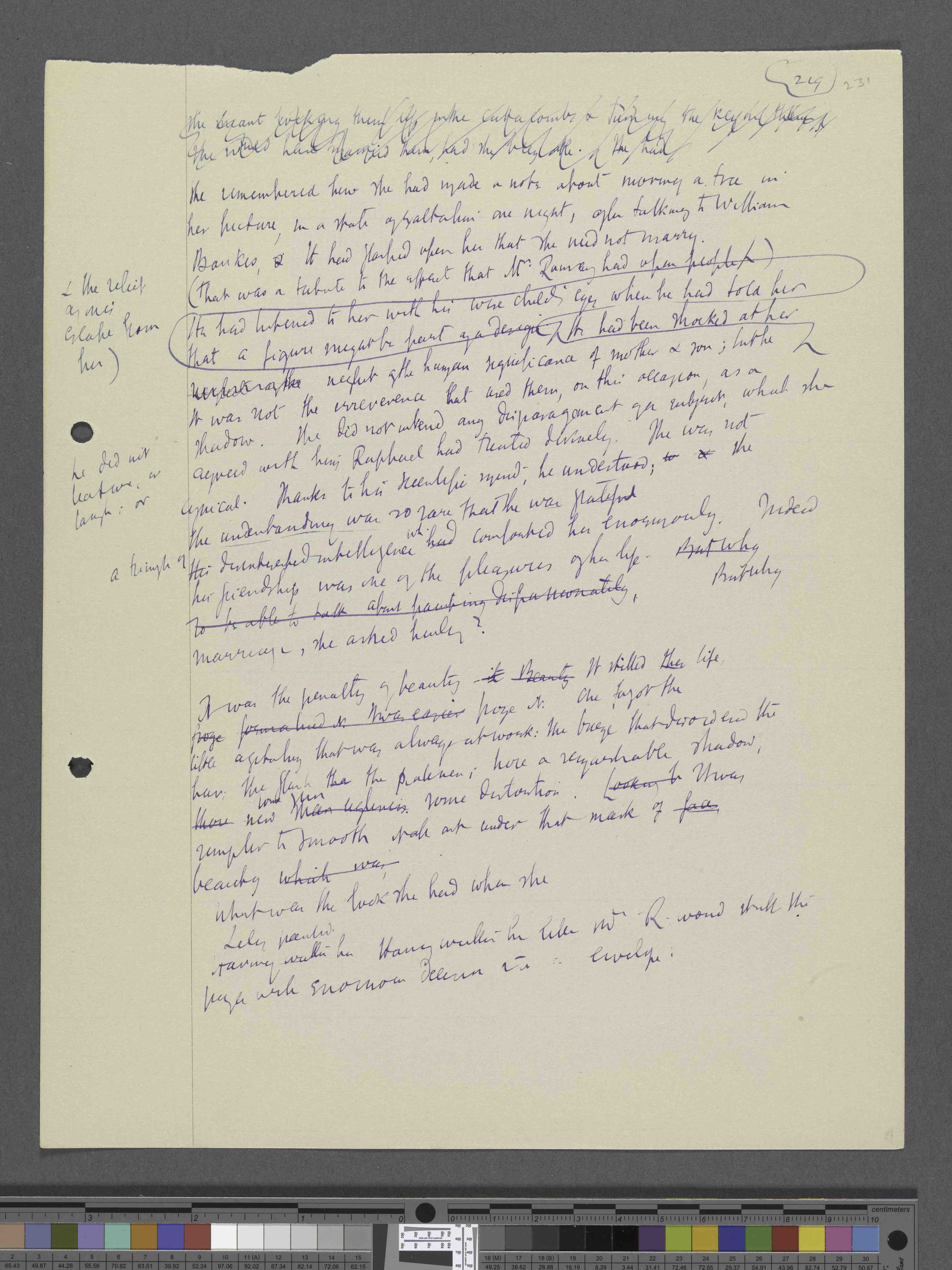 219
231
She meant locking them up in the catacombs & turning the key on them.
She would have married him, had she been able. She had
She remembered how she had made a note about moving a tree in
her picture, in a state of exaltation one night, after talking to William
Bankes,

&

It had flashed upon her that she need not marry.
& the relief
of one's
escape from
her)
(That was a tribute to the effect that Mrs. Ramsay had upon people)
He had listened to her with his wise child's eyes when he had told her
that a figure might be part of a design
He had been shocked at her
neglect of the

neglect of the human significance of mother & son; but he
It was not the irreverence that used them, on this occasion, as a
shadow.
She did not intend any disparagement of a subject, which she
he did not
lecture, or
laugh; or
agreed with him Raphael had treated divinely.
She was not
cynical.
Thanks to his scientific mind, he understood;

w &

she
The understanding was so rare that she was grateful
a triumph of
His

disinterested intelligence
wh
had

comforted her enormously.
Indeed
his friendship was one of the pleasures of her life

.
But why:
to be able to talk about painting dispassionately.
But why
marriage, she asked herself?
It was the penalty of beauty -

it

Beauty

It stilled

the

life,
froze

formalised it.

It was easier

froze it. One forgot the
little agitation that was always at work: the breeze that disordered the
hair; the flush,

tha

the paleness; here a remarkable shadow,
some ?sun
there

now

then ugliness.

some distortion.
Looking b

It was
simpler to smooth it all out under that mask of

faces,
beauty

which was,
what was the look she had when she
Lily painted.
Having written her

Having written her letter Mrs. R would stuff the
paper with enormous decision in ?an
envelope;