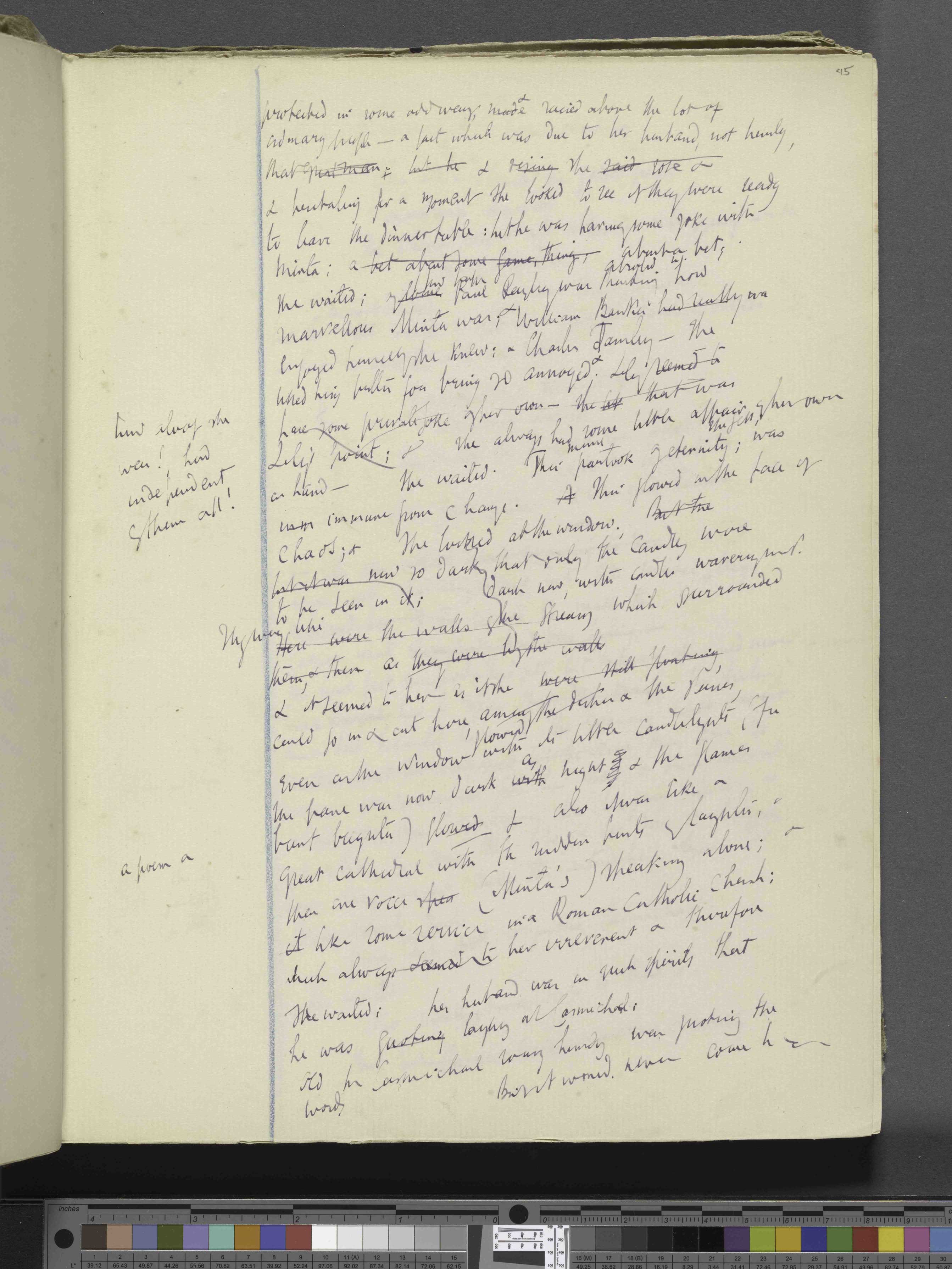 45
&
protected in some odd way,

made
raised above the lot of
ordinary people - a fact which was due to her husband, not herself,
that

great man,

but he

&

rising

she

said rose &
& hesitating for a moment she looked to see if they were ready
to leave the dinner table: but he was having some joke with
Minta;

a bet about some ?game, thing;

about a bet,
how proper
[?] in
she waited;
of course

Paul Rayley was thinking how
marvellous Minta was
&
William Bankes

had really

wa
enjoyed himself she knew; & Charles Tansley - she
&
liked him better for being so annoyed.
Lily seemed to
how aloof she
was! how
independent
of them all!
have some private joke of her own - she lik that was
Lily's point; &
she always had some little affair of her own
moment
she felt
on hand -
She waited.
This partook of eternity; was
imm

immune from change!
A

This glowed in the face of
chaos;

&
She looked at the window. But the
but it was now so dark that only the candles were
to be seen in it;
dark now, with candles wavering in it.
They were like
Here were the walls of the stream
which surrounded
them, & then

as

they were by the walls
& it seemed to her as if she

were still floating
could go in & out here,

among the dishes

& the glasses,
glowed
even as the window with its little candlelights (for
as
the pane was now dark

with

night

)

& the flames
burnt brighter)

glowed

&
also it was like a
a poem a
great cathedral
with the sudden bursts of laughter, &
then one voice

spea
(Minta's) speaking alone; &
it

like some service
in a Roman Catholic Church;
which always

seemed to

her irreverent & therefore
she waited;
her husband was in such spirits that
he was

quoting

laughing at Carmichael;
old Mr. Carmichael rousing himself was quoting the
words
But it would never come ?h