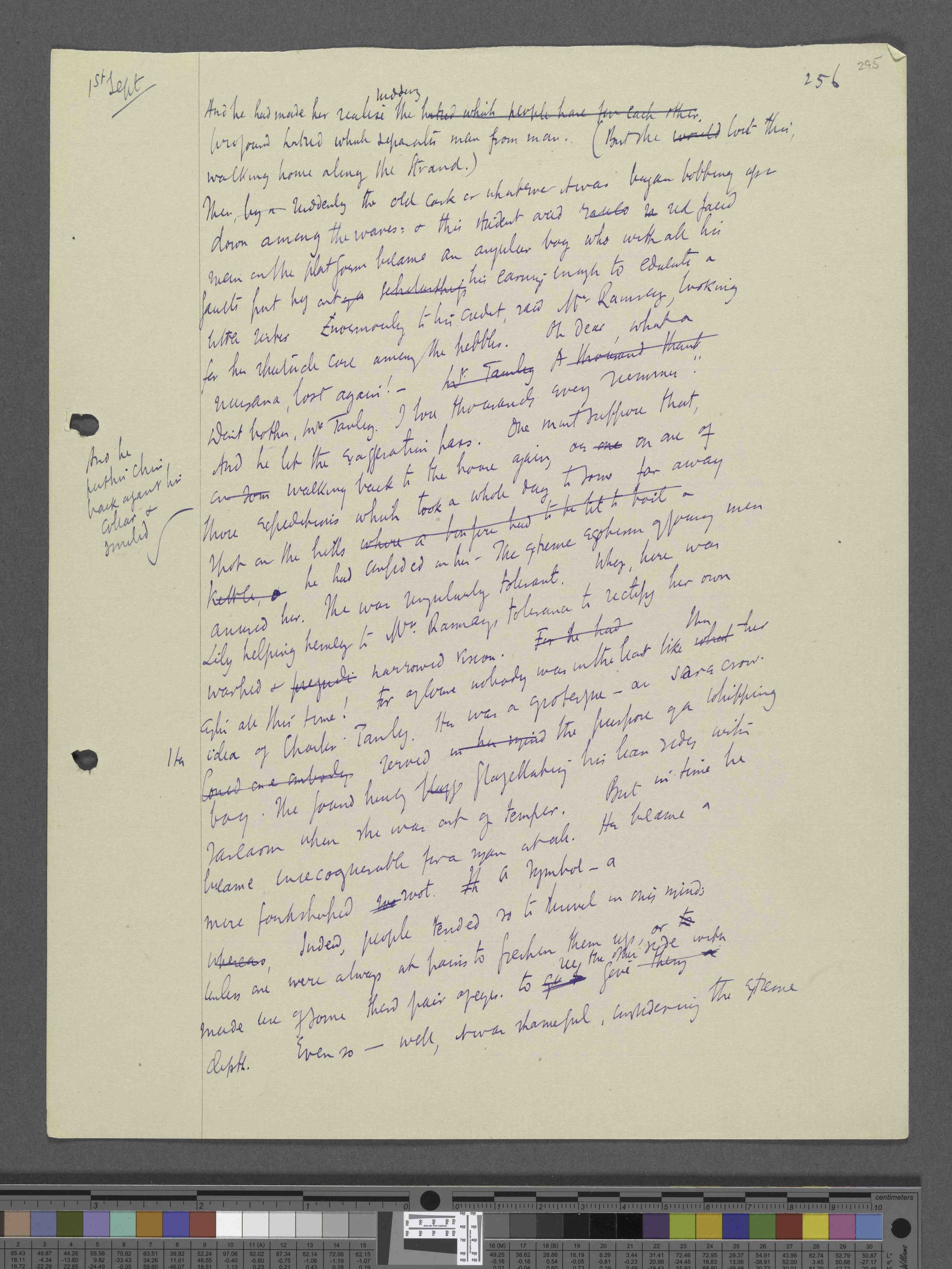 256
295
1st Sept
suddenly
And he had made her realise the

hatred which people have for each other.
profound hatred which separates man from man.
(But she

would

lost this,
walking home along the Strand.)
Then,

by a

suddenly the old cork or whatever it was began bobbing up &
down among the waves: & this strident arid

rauco

ra

red faced
man on the platform became an angular boy who with all his
faults put by

out of a scholarship

his earnings enough to educate a
little sister. Enormously to his credit, said Mrs. Ramsay, looking
for her spectacle case among the pebbles.
Oh dear, what a
nuisance, lost again! -
Mr. Tansley
A thousand thanks
Don't bother, Mr. Tansley.
I lose thousands every summer."
And he let the exaggeration pass.
One must suppose that,
And he
put his chin
back against his
collar &
smiled
on

som

walking back
to the house again, ?or

one

on one of
those expeditions which
took a whole day to some far away
spot on the hills where a bonfire had to be lit to boil a
kettle, &
he had confided in her - The extreme egotism of young men
?amused her. She was singularly tolerant.
Why, here was
Lily helping herself to
Mrs. Ramsay's tolerance to rectify her own
warped &

prejudi

narrowed vision.
For he had
After all this time!
For of course nobody was in the least like

what

- her
?the
Her
idea of
Charles Tanly. He was a grotesque - a scarecrow.
Could one embody
served

in her mind

the purpose of a whipping
boy.
She found herself

flagg

flagellating his lean sides with
sarcasm when she was out of temper.
But in time he
became unrecognisable for a man at all.
He became a
mere forksharped
ru

root.
Th

a symbol - a
whereas,
Indeed, people tended so to shrivel in one's mind;
unless one were always at pains to freshen them up,
or

to
see the other side with
made use of some third pair of eyes. to

?go to

give

them a
depth.
Even so - well, it was shameful, considering the extreme