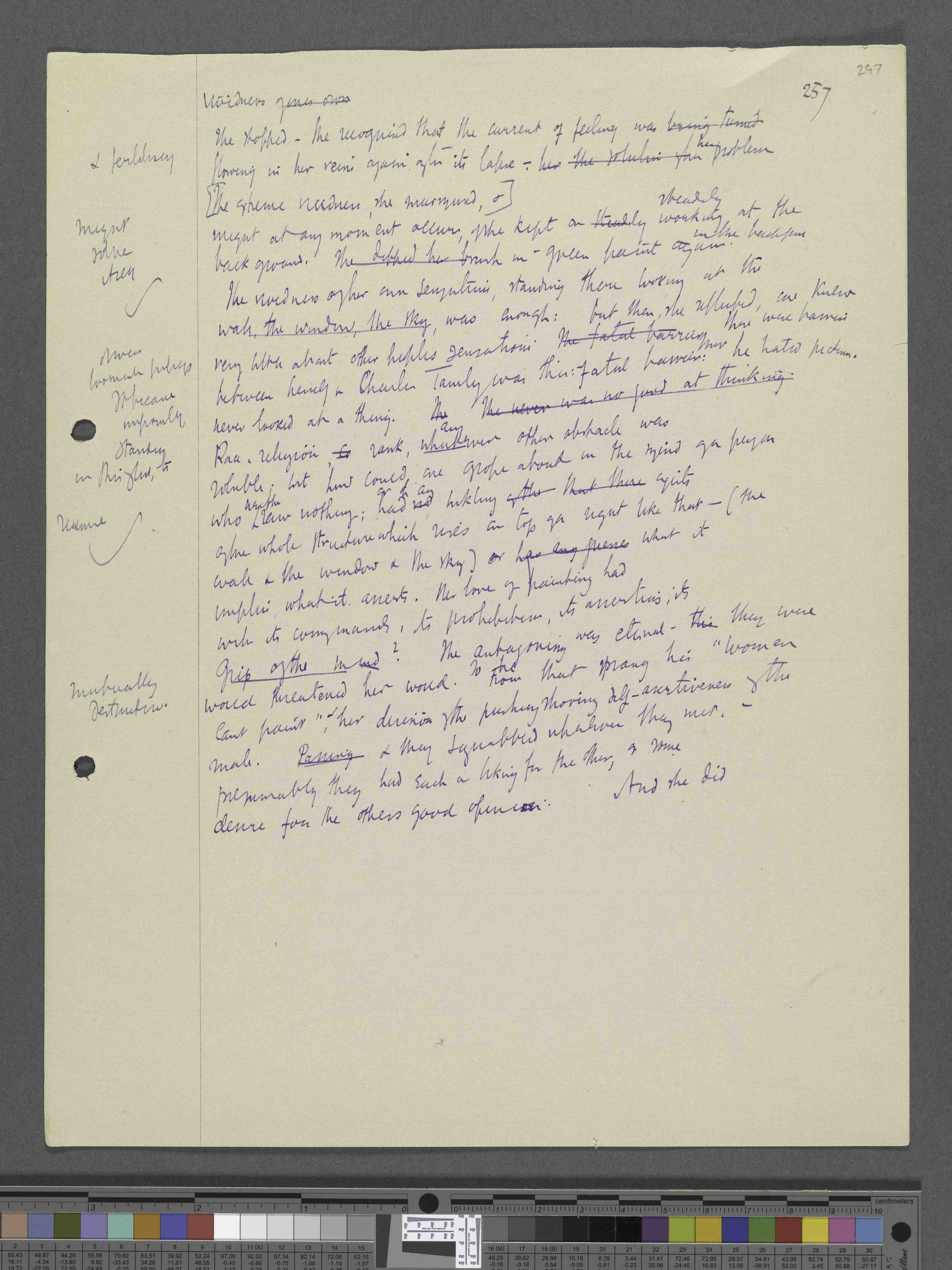 257
297
vividness

of ones own
She stopped - She recognised that the current of feeling was

being turned
& fertilising
flowing in her veins again after its lapse -

her

the solution of her
her
problem
[The extreme vividness, she murmured, &
might at any moment occur, if she kept on

steadily

working at the
steadily
might
solve
itself
background.
She dipped her brush

in green paint again.
in the ?background
The vividness of her own sensations, standing there looking
at the
wall,

the window, the sky,

was enough:
but then, she reflected, one knew
very little about other peoples sensations.
The fatal barrier
There were barriers
between herself & Charles Tansly was this: fatal barrier:
that
he hated pictures,
never looked at a thing.
She
She never was no good at thinking.
it was
too much perhaps
It became
impossible,
standing
in this glare, to
resume
Race, religion,

co

rank,
any
whatever other obstacle was
soluble; but how could one grope about in the mind of a person
neither
or h any
who saw nothing;
had

no

inkling

of the

that there

exists
of the whole structure which rises on top of a sight like that - (the
wall & the window & the sky) or

has any guesses

what it
implies what it asserts. Her love of painting had
with its commands, its prohibitions, its assertions, its
grip of the mind?
The antagonism was eternal -

this

they were
mutually
destructive.
world threatened her world.
So he
From that sprang his "Women
&
cant paint",
her derision of the pushing shoving self-assertiveness of the
male.
Passing

& they squabbled whenever they met. -
presumably they
had
each a liking for the other, & some
desire for the others good opinion.
And she did