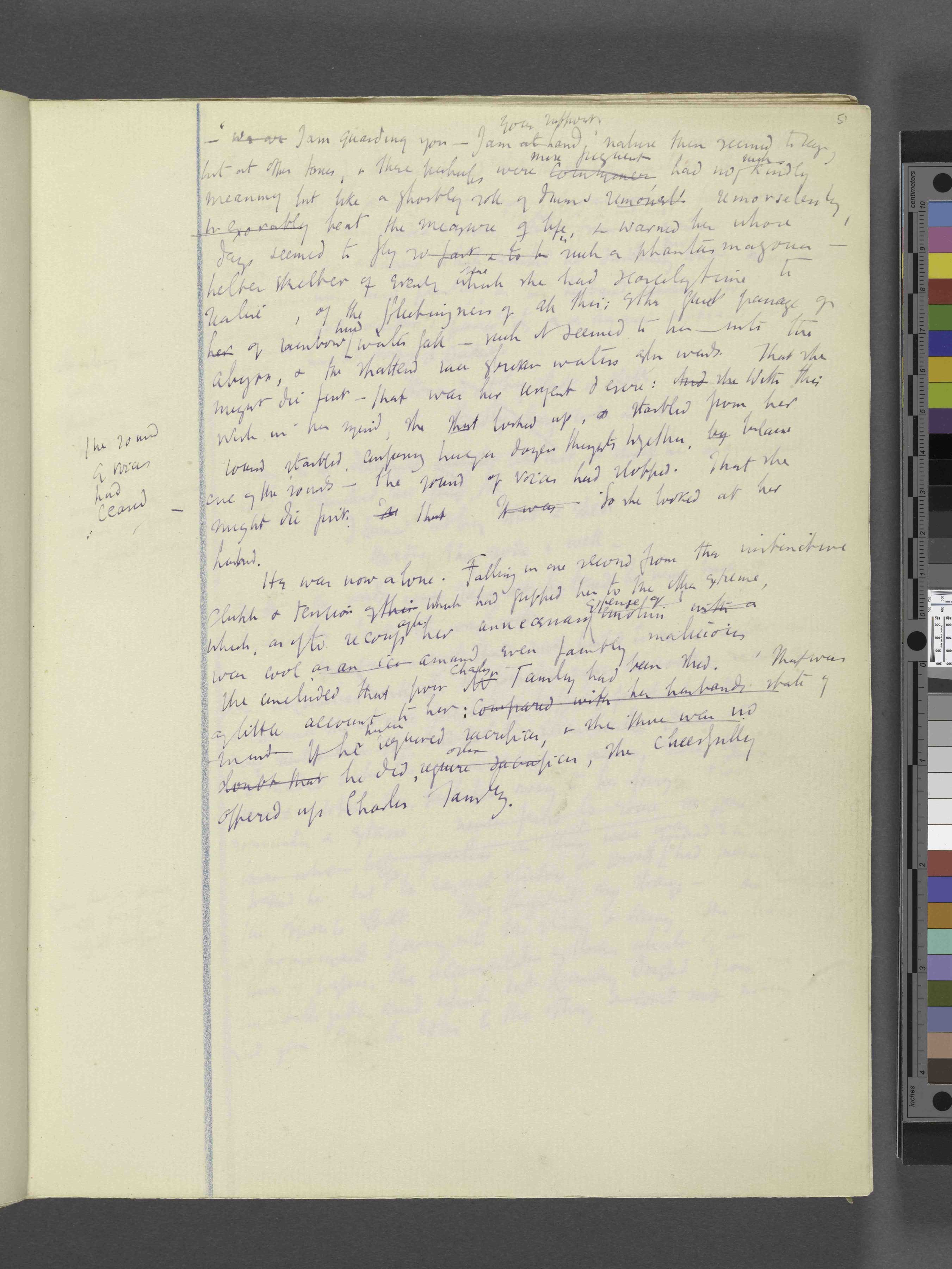 51
'

We are

I am guarding you - I am

at hand

' nature then seemed to say,
your support
more frequent
such
but at other times, & these perhaps were

commoner

, had no kindly
meaning but like a ghostly roll of drums

remorsll

remorselessly,
inexorably

beat the measure of life, & warned her whose
days seemed to fly

so fast & to be

such a phantasmagoria -
helter skelter of events which she had scarcely time to
realise,
of the fleetingness of all this, of the quick passage of
?hued
her

of rainbow water fall - such it seemed to her - into the
abyss, & the shattered race of ?risen/broken waters ?afterwards.
That she
might die first - that was her urgent desire:

And she

With this
wish in her mind, she

shut

looked up,

[?]

startled from her
the sound
of voices
had
ceased
round startled, composing half a dozen thoughts together,

by

because
one of the sounds - the sound of voices had stopped. That she
might die first.

In tha

t

It was

So she looked at her
husband.
He was now alone. Falling in one second from the instinctive
clutch & tension

of their

which had gripped her to the other extreme,
after
expense of
which, as if to recoup her unnecessary emotion

with a
was cool

as an ice

amused, even faintly malicious
Charles
she concluded that poor Mr. Tansley had been shed.
That was
of little account to her:

compared with her husbands state of
[?]
mind.

If he required sacrifices, & she

there was no
often
doubt that

he did,

require sacrifices

she cheerfully
offered up Charles Tansley.
?she/these
as