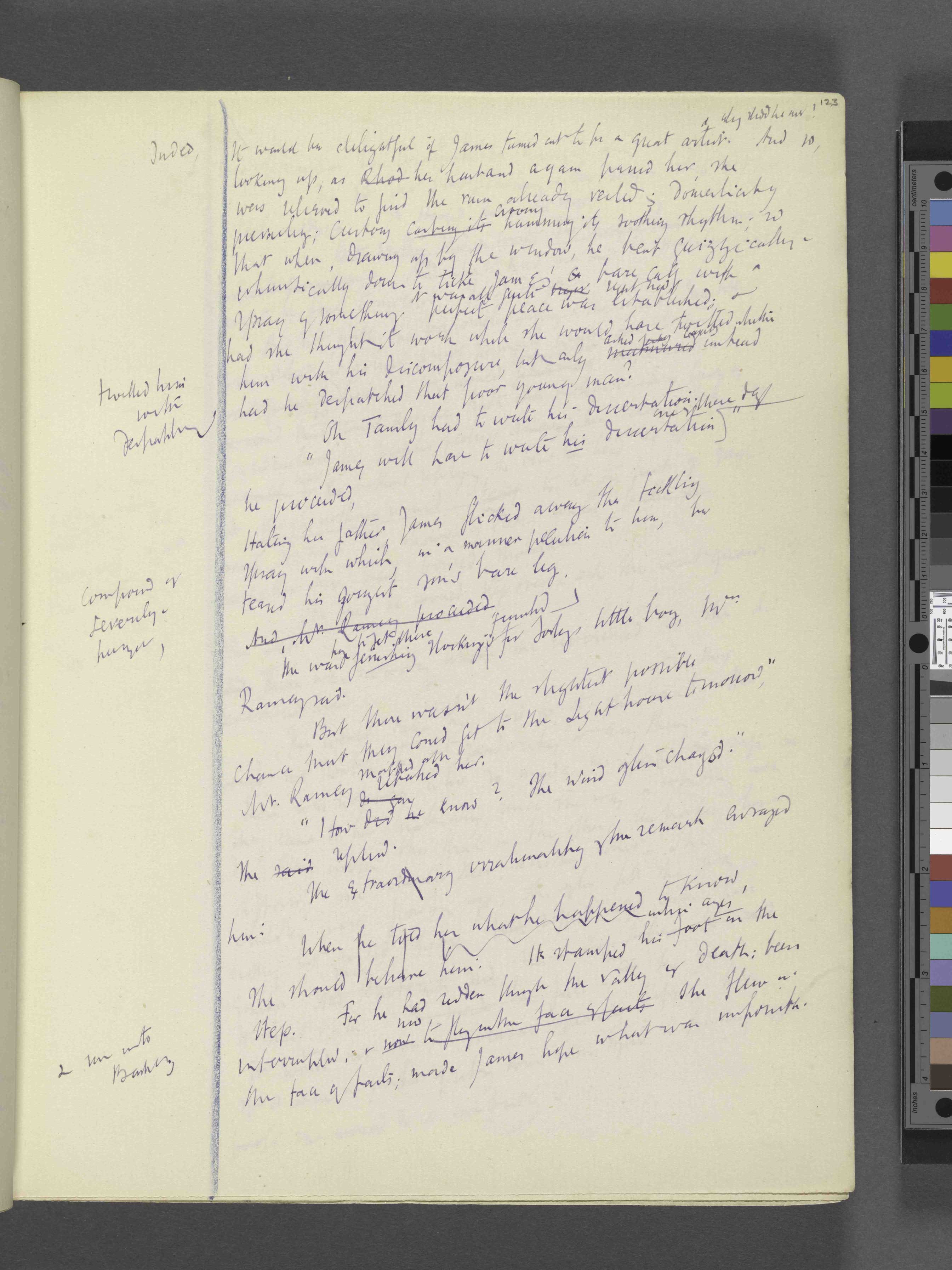 123
& why should he not!
Indeed,
It would be delightful if James turned out to be a great artist. And so,
looking up, as

Rhod

her husband again passed her, she
was relieved to find the ?ruin already veiled; domesticity
crooning
prevailing; custom

casting its

humming its soothing rhythm; so
that when, drawing up by the window, he bent quizzically &
whimsically down to tickle James'

ca

bare calf with a
it was all quite

?righ

right now
spray of something perfect peace was established; &
had she thought it worth while she would have twitted
asked

[?]

coaxing whether
him with his discomposure, but only

murmured

instead
had he despatched that poor young man?
twitted him
with
despatching
Oh Tansley had to write his dissertation.
"James will have to write his dissertation"
one of these days
he proceeded,
Hating his father, James flicked away the tickling
spray with which, in a manner peculiar to him, he
teased his youngest son's bare leg.
And, Mr. Ramsay proceeded
compound of
severity &
humour,
had to get these
finished
She was

finishing

stockings for Sorleys little boy, Mrs.
Ramsay said.
But there wasn't the slightest possible
chance that they could get to the Lighthouse tomorrow,"
snapped out
Mrs. Ramsay rebuked her.
do you
"How

did

he

know? The wind often changed."
she

said

replied.
The extraordinary irrationality of her remark enraged
him.
When he told her what he happened to know,
in his eyes
she should believe him.
He stamped his foot on the
step.
For he had ridden through the valley of death; been
now
interrupted, &

now

to fly in the face of facts

She flew in
the face of facts; made James hope what was impossible.
& run into
Bankes,