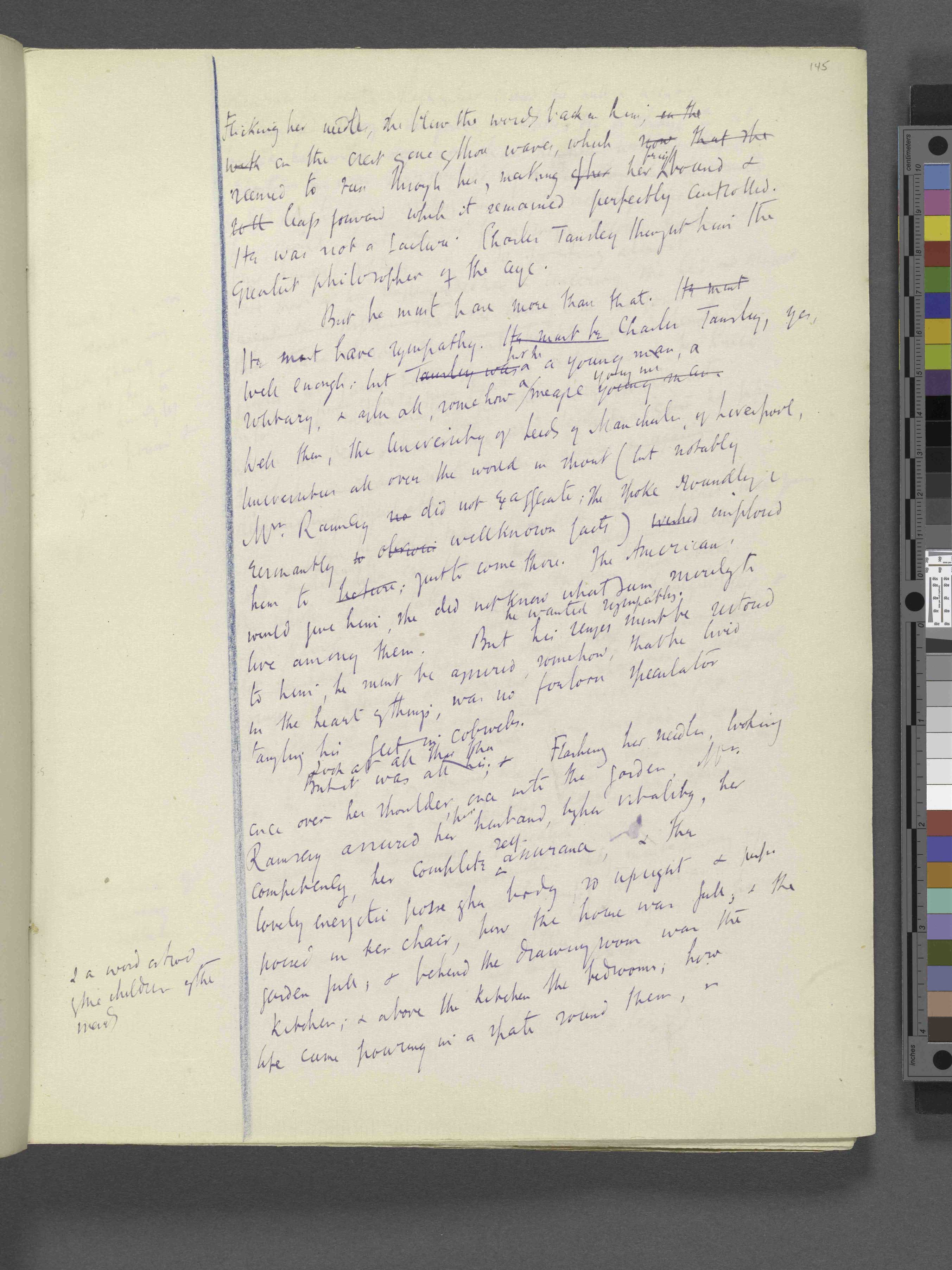 145
Flicking her needles, she blew the words back at him,

on the
with

on the crest of one of those waves, which

now

that she
being
seemed to run through her, making

of her

her bound &
roll

leap forward while it remained perfectly controlled
He was not a failure. Charles Tansley thought him the
greatest philosopher of the age.
But he must have more than that.

He must
He must have sympathy.

He must be

Charles Tansley, yes,
?but he
well enough; but

Tansley was

a a young

man

, a
young ?man
solitary, & after all, somehow
a
meagre

young man
Well then, the University of Leeds ?of Manchester, of Liverpool,
Universities all over the world in short (but notably
Mrs. Ramsay

no

did not exaggerate; she spoke soundly &
[?]

to obvious

wellknown facts)

wished

implored
him to

lecture;

just to come there. The Americans
would give him, she did not know what sum, merely to
he wanted sympathy
live among them. But his senses must be restored
to him; he must be assured, somehow, that he lived
in the heart of things, was no forlorn speculator
tangling his feet in cobwebs.
Look at all this then
But it was all his;

&

Flashing her needles, looking
once over her shoulder, once into the garden, Mrs.
him
Ramsay assured her
husband, by her vitality, her
self-
competency, her complete assurance, - & the
lovely energetic poise of her
body so upright & ?proper
poised in her chair, how the house was full; & the
garden full, & behind the drawing room was the
kitchen; & above the kitchen the bedrooms; how
life came pouring in a spate round them
& a word or two
[?asked] of the children of the
[?mar]