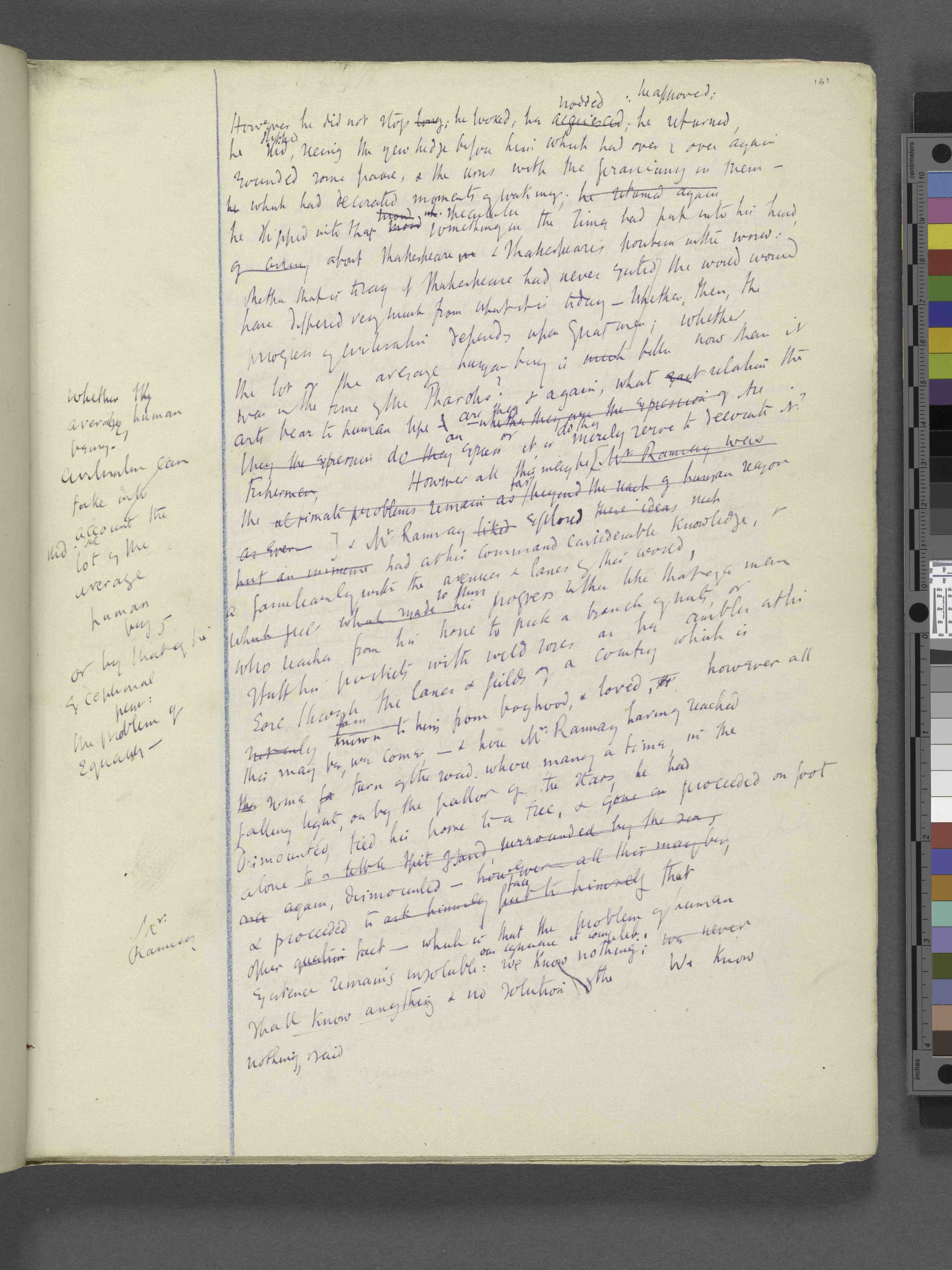 161
he approved
nodded:
However he did not stop

long

; he looked, he

acquiesced

he returned,
slipped
he slid, seeing the yew hedge before him which had over & over again
rounded some ?pause, & the urns with the geraniums in them -
?he

which had decorated moments of waking;

he returned again
mood

wh.

speculation
he slipped into that

mood

something in the Times had put into his head
of asking

about Shakespeare -

[?]

& Shakespeare's position in the world:
whether that is to say if Shakespeare had never existed the world would
have differed very much from what it is today - Whether, then, the
progress of civilisation depends upon great men; whether
the lot of the average human being is

much

better now than it
was in the time of the Pharohs?
& again, what

exact

relation the
are they
arts bear to human life
whether they are the expression of

the
an
or
do they
they the

expression

do they

express it,
merely serve to decorate it?
Fishermen,
However all this may be, [

Mr. Ramsay was
far
the

ultimate problems remain as
beyond the reach of human

reason
as ever

] & Mr. Ramsay

liked

explored

these ideas

?such
put an immense

had at his command considerable knowledge, &
a familiarity with the avenues & lanes of this world,
?to ?him
which

[?ful/?feel]

which made

his progress rather like that of a man
whether the
average

human
being.
civilisation can
take into
account the
shd.
be
lot of the
average
human
being,
or by that of his
exceptional
?person
the problem of
equality -
Mr.
Ramsay
who reaches from his horse to pick a bunch of nuts, or
stuff his pockets with wild roses as he ambles at his
ease through the lanes & fields of a country which is
fam
not only

known to him from boyhood, & loved,

&

- however all
this may be, now comes, - & here Mr. Ramsay having reached
the

some

fa

turn on the road, where many a time, in the
falling light, or by the pallor of the stars, he had
dismounted, tied his horse to a tree, &

gone on

proceeded on foot
alone

to a little spit of land, surrounded by the sea,
once

again, dismounted -

however all this may be,
face
& proceeded to

ask himself

put to himself

that
other

question

fact - which is that the problem of human
existence remains insoluble: we know
nothing;

we never
nothing, said
our ignorance is complete,
shall know anything & no solution of the
We know