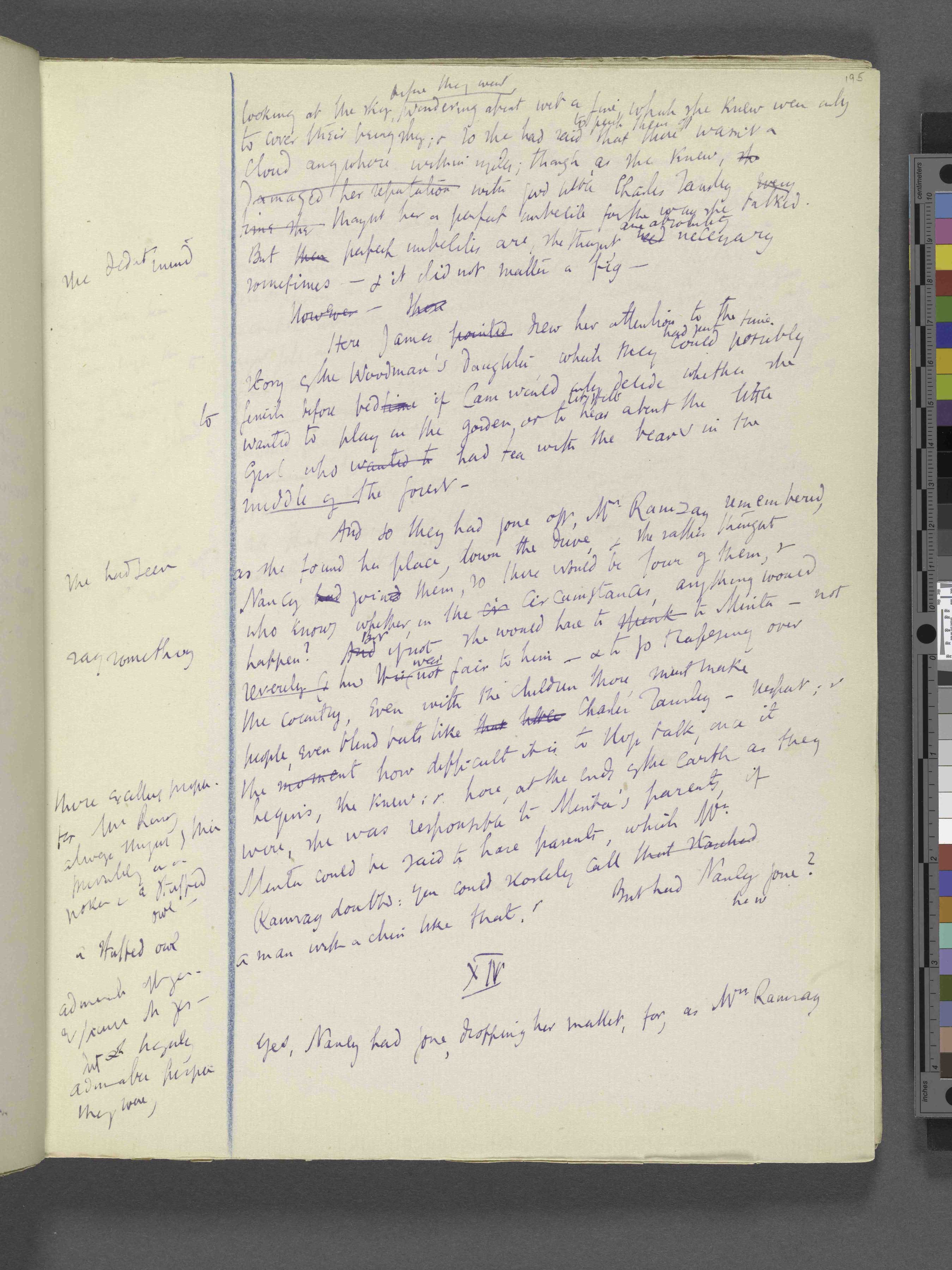 195
before they went
looking at the sky, wondering about wet or
fine, which she knew was only
to push them off
to cover their being shy; &
so she had said that there wasn't a
cloud anywhere within miles; though as she knew,

she
damaged her reputation

with good little Charles Tansley

every
time she

thought her a perfect imbecile for the way she talked.
are absolutely
But

then

perfect imbeciles are, she thought,

need

necessary
sometimes - & it did not matter a fig -
However

-

Those
she didn't
mind
Here James

pointed

drew her attention to the
had just time
story of the Woodman's daughter, which they could possibly
to
finish before bed

time

if Cam would only decide whether she
sit still
wanted to play in the garden, or to to hear about the little
girl who

wanted to

had tea with the bears in the
middle of the

forest.
And so they had gone off, Mrs. Ramsay remembered,
as she found her place, down the drive, & she rather thought
Nancy

had

join

ed

them, so there would be four of them, &
who knows whether, in the

cir

circumstances, anything would
But
happen?

And

if not, she would have to

speak

to Minta - not
she had seen
say something
was
severely (& how

It is not fair to him - & to go trapesing over
the country, even with the children there, must make
people, even blind bats like

that little

Charles Tansley - repeat; &
the

moment

how difficult it is to stop talk, once it
begins, she knew; & here, at the ends of the earth as they
were, she was responsible to Minta's parents, if
Minta could be said to have parents, which Mrs.
Ramsay doubted: you could scarcely call

that starched
a man with a chin like that!
But had Nancy gone?
?he w
XIV
Yes, Nancy had gone, dropping her mallet, for, as Mrs. Ramsay
those excellent people
for Mrs. Ramsay
always thought of them [?]
[?] as a
poker & a stuffed
owl -
a stuffed owl
admirable oh yes -
[?] oh yes -
but

oh

highly
admirable people
they were,