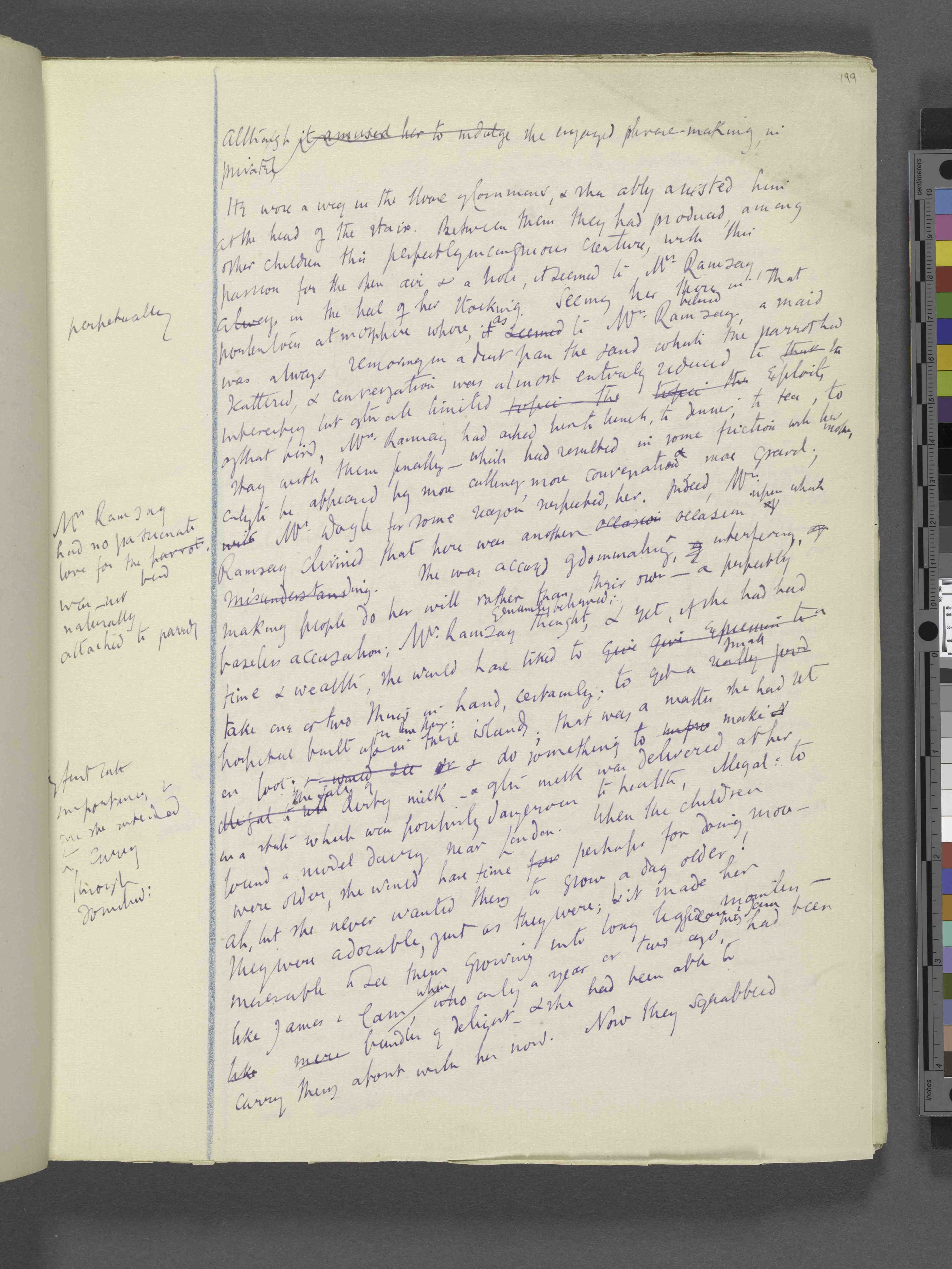 199
Although it amused her to indulge she enjoyed phrase-making in
private
He wore a wig in the House of Commons, & she ably assisted him
at the head of the stairs. Between them they had produced, among
other children this perfectly incongruous creature, with this
passion for the open air & a hole, it seemed to Mrs. Ramsay,
perpetually
always

in the heel of her stocking.
Seeing her there in that
believed
as
portentous atmosphere where,
it

seemed

to
Mrs. Ramsay, a maid
was always removing in a dust pan the sand which the parrot had
scattered, & conversation was almost entirely reduced to

that

the
interesting but after all limited

topic the

topic

the exploits
of that bird, Mrs. Ramsay had asked her to lunch, to dinner, to tea, to
stay with them finally - which had resulted in some friction with her mother,
only to be appeased by more calling, more conversation more gravel;
&
with

Mrs. Doyle for some reason suspected, her. Indeed, Mrs.
upon which
Ramsay divined that here was another

occasion

occasion

of
Mrs. Ramsay
had no passionate
love for the

parrot
bird
was not
naturally
attached to parrots
misunderstanding.
She was accused of dominating, &

of

interfering,

of
making people do her will rather than their own - a perfectly
genuinely believed;
baseless accusation;
Mrs. Ramsay thought, & yet if she had had
time & wealth, she would have liked to

give

give expression to a
small
take one or two things in hand, certainly;
to get a

really good
for one thing:
hospital built up in
these islands; that was a matter she had set
the sale of
on foot.

& would see

or

&
do something to

impro

make

it
illegal to sell

dirty milk - &
often milk was delivered at her
in a state which was possibly dangerous
to health, illegal; to
found a model dairy near London. When the children
were older, she would have time

for

perhaps for doing more -
ah, but she never wanted them to grow a day older!
They were adorable, just as they were; & it made her
miserable to see them growing
into long legged monsters -
Cam & James
they
had been
when
like James & Cam
who only a year or two ago
like

mere

bundles of delight - & she had been able to
carry them about with her now. Now they squabbled
of first rate
importance, &
one she intended
to carry
through
somehow: