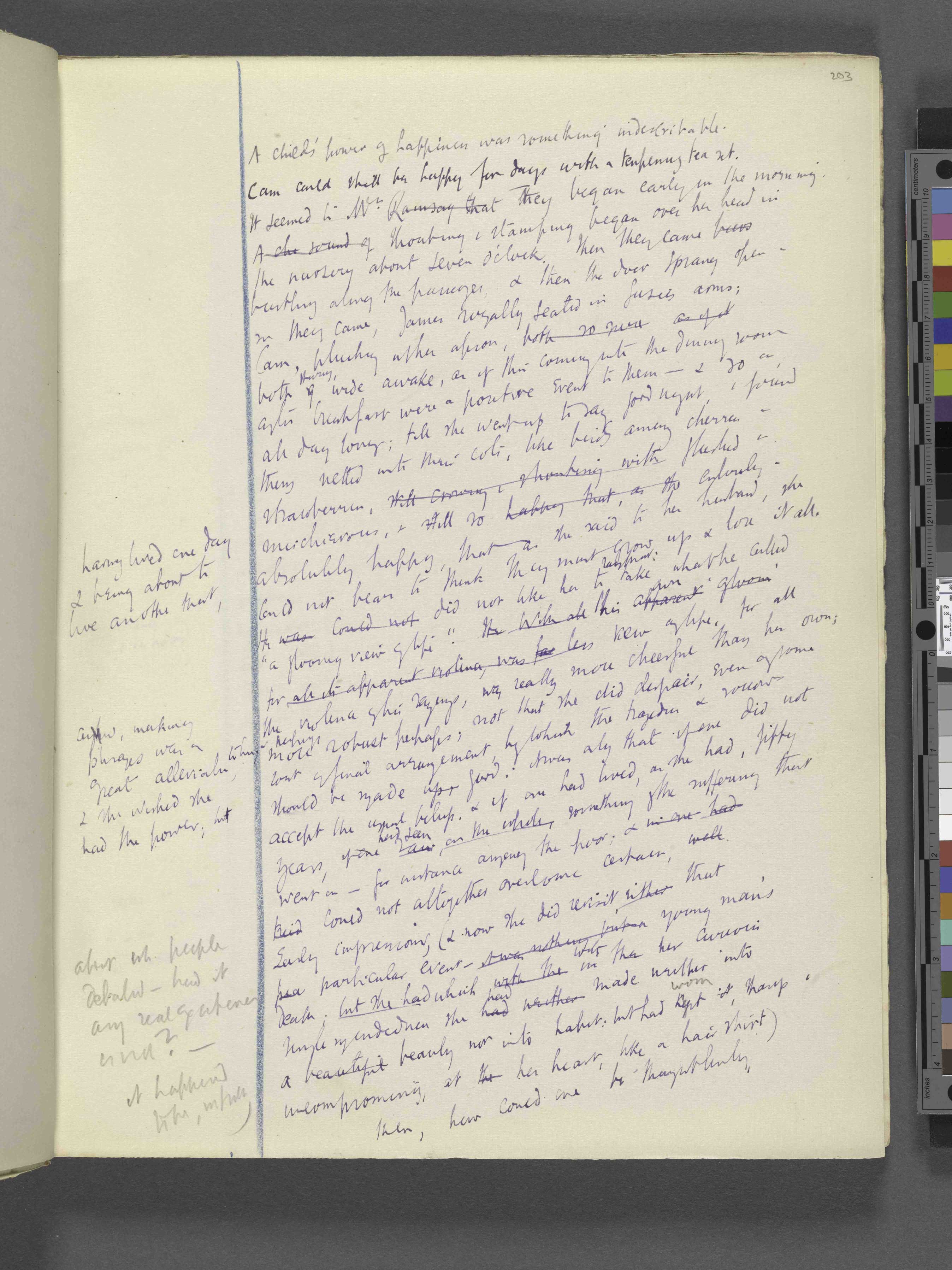 203
A child's power of happiness was something indescribable.
Cam could still be happy for days with a tenpenny tea set.
It seemed to Mrs.

Ramsay that

T

t

hey began early in the morning.
A ?ch sound of

Shouting & stamping began over her head in
the nursery about seven o'clock. Then they came

burs
bursting along the passages, & then the door sprang open &
in they came, James royally seated in Susie's arms;
Cam, plucking at her apron,

both so sure

as if it
staring,
both

g

wide awake,
as if this coming into the dining room
after breakfast were
a positive event to them - & so on,
all day long; till she went up to say good night, & found
them netted into their cots, like birds among cherries &
strawberries,

still crowing & shouting with

flushed &
mischievous, & still so

happy that, as she

entirely &
having lived one day
& being about to
live another that,
absolutely happy, that as
she said to her husband, she
could not bear to think they must grow up & lose it all.
say that:
He

was

could not

did not like her to take what he called
own
"a gloomy view of life".

He

With all

H

h

is

apparent

'gloom'
for

all its apparent violence, was far less

view of life, for all
the violence of his sayings, was really more cheerful than her own;
& perhaps
anyhow, making
phrases was a
great alleviation,
to him
& she wished she
had the power, but
more robust perhaps,
not that she did despair, even of some
sort of final arrangement
by which the tragedies & sorrows
should be made

up,

good:
it was only that if one did not
accept the usual beliefs
& if one had lived, as she had, fifty
had seen
years,

if one

saw,
on the whole,

something of the suffering that
went on - for instance among the poor, &

in one

had
tried

could not altogether overcome certain,

well
Early impressions,

& now she did revisit, either that
pra

particular event -

it was nothing but

a young man's
?with
death; but she had which
with the

in

the

her curious
had
single [?simple] mindedness she

had

neither
made neither into
worn
a beautiful beauty nor into habit: but had

kept

it

sharp &
uncompromising, at

the

her heart, like a hair shirt)
Then, how could one be thoughtlessly,
about wh people
debated - had it
any real existence
or not? -
it happened
to be in [?truth]