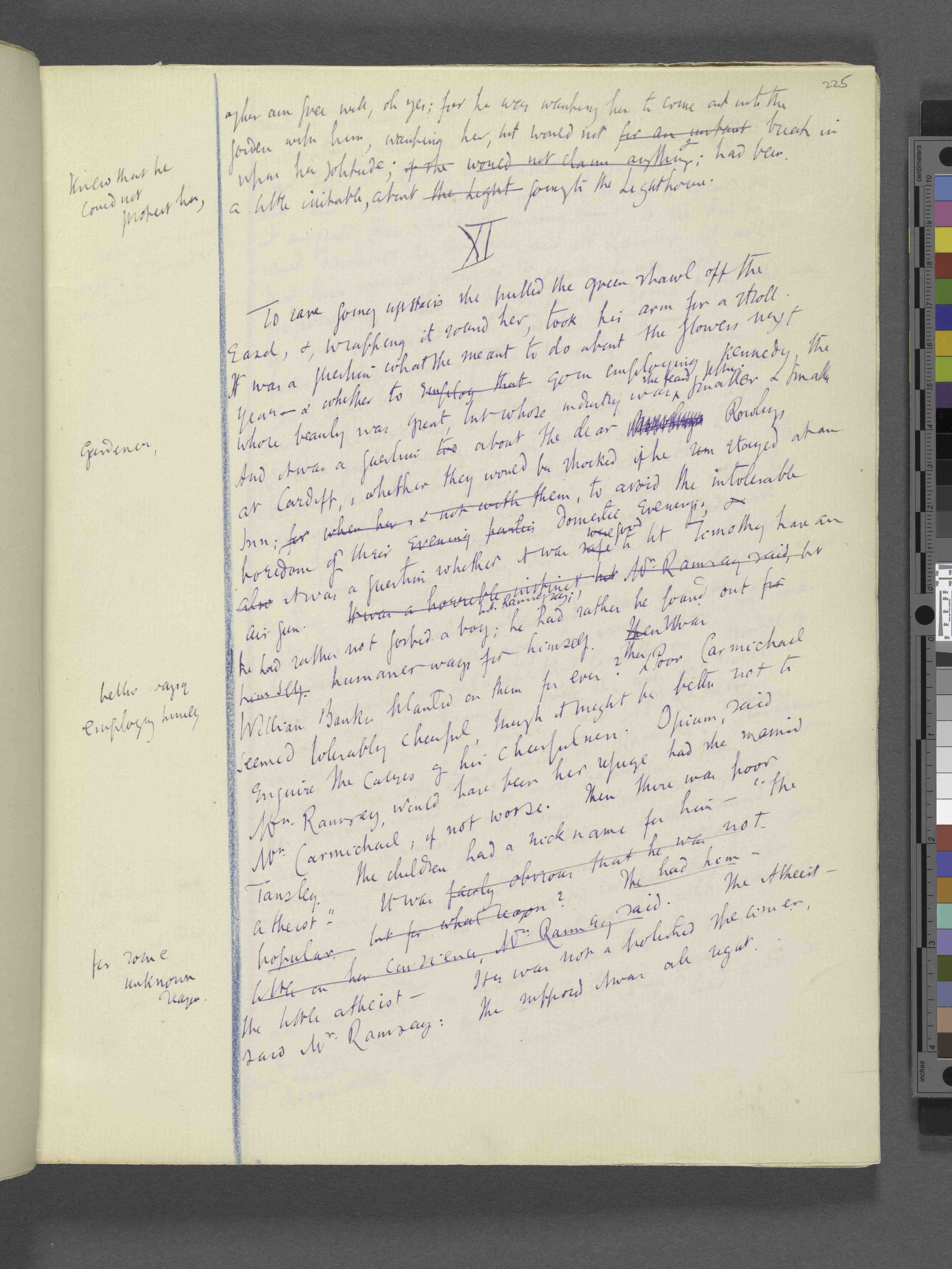 225
of her own free will, oh yes; for he was wanting her to come out into the
garden with him, wanting her, but would not

for an instant

break in
upon her solitude; i

f she

would not claim anything;

had been
&
a little irritable, about

the Light

going to the Lighthouse.
knew that he
could not
protect her,
XI
To save going upstairs she pulled the green shawl off the
easel, &, wrapping it round her, took his arm for a stroll.
It was a question what she meant to do about the flowers next
year - & whether t

o employ that

go on employing Kennedy, the
she feared getting
whose beauty was great, but whose industry was
smaller & smaller
gardener
And it was a question

too

about the dear

?Rowleys

Rowleys,
at Cardiff, whether they would be shocked if her

?rem

stayed at an
Inn;

for

when he

& not with them,
to avoid the intolerable
boredom of their

evening

parties
domestic evenings;

&
were good
also

it was a question whether it was
safe

to let Timothy have an
air gun.
It was a horrible instinct,
but
Mr. Ramsay said, he
Mr. Ramsay ?said;
he had rather not forbid a boy; he had rather he found out

for
better ways of
employing himself
himself.

humaner ways for himself.

Then was

Was
William Bankes planted on them for ever?
Then
Poor Carmichael
seemed tolerably cheerful, though it might be better not to
enquire the causes of his cheerfulness.
Opium, said
Mrs. Ramsay, would have been her refuge had she married
Mrs. Carmichael; if not worse. Then there was poor
Tansley. The children had a nick name for him - "the
atheist."
It was

fairly obvious that he was not
popular.
but for what reason?
She had him a
little on her conscience Mrs. Ramsay said.
The atheist -
the little atheist -
He was not a polished specimen,
said Mr. Ramsay:
She supposed it was all right.
for some
unknown
reason.