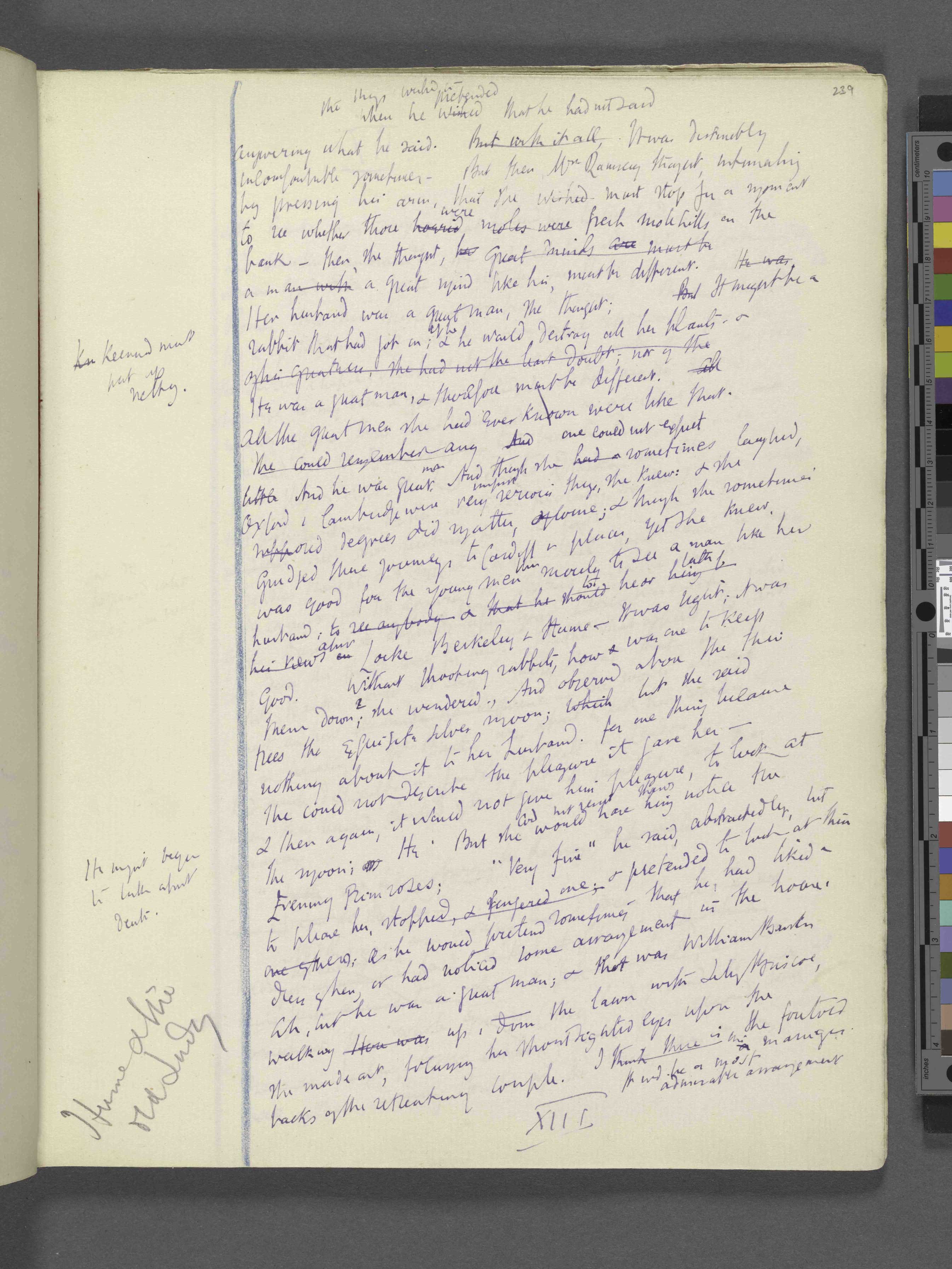 239
the things
wished to
pretended
When he

wished
that he had not said
answering what he said
But with it all,

It was distinctly
uncomfortable sometimes -
But then Mrs. Ramsay thought, intimating
by pressing his arm, that she

wished

must stop for a moment
were
to see whether those

horrid

moles

were

fresh molehills on the
bank - then, she thought,

he

great minds must are be
a

man with

a great mind like his, must be different.
He was
Kn

Kennedy must
put up
netting
Her husband was a great man, she thought.
But

It might be a
if he
rabbit that had got in;
& he would destroy all her plants, &
of his greatness, she had not the least doubt; nor of the
He was a great man, & therefore must be different.
All
All the great men she had ever known were like that.
She could remember

any
And
one could not expect
man
little

And he was great.
And though she

had a

sometimes laughed,
import
Oxford & Cambridge were very serious things, she knew: & she
supposed

degrees did matter,

of

course; & though she sometimes
was good for the young men
merely to see a man like her
to
lecture
husband; to

see anybody

&

that he
should

hear

him ?to
about
his views
on
good.
grudged these journeys to Cardiff
& places, yet she knew,
there
Locke, Berkeley & Hume -
It was right; it was
Without shooting rabbits,
how was one to keep
them down

;

? she wondered

.

, And observed
above the thin
trees the exquisite silver moon;

which

but she said
nothing about it to her husband. for one thing because
she could not describe
the pleasure it gave her -
He might begin
to talk about
death.
& then again, it would not give him pleasure, to look at
cd. not resist
showing
the moon; He
But she
would have him notice the
Evening Primroses;
"Very fine" he said, abstractedly, but
to please her,

stopped & fingered one;
& pretended to look at them
one of them;

as he would pretend sometimes
that he had liked a
dress of hers, or had noticed
some arrangement in the house.
Ah, but he was a great man; & that was William Bankes
walking

Here was

up &

down

the lawn with Lily Briscoe,
she made out, focussing her shortsighted eyes upon the
backs of the retreating couple.
I

think there is
She foretold
this
a
marriages.
It would be a most
admirable arrangement
XIII
Hume & the
old lady