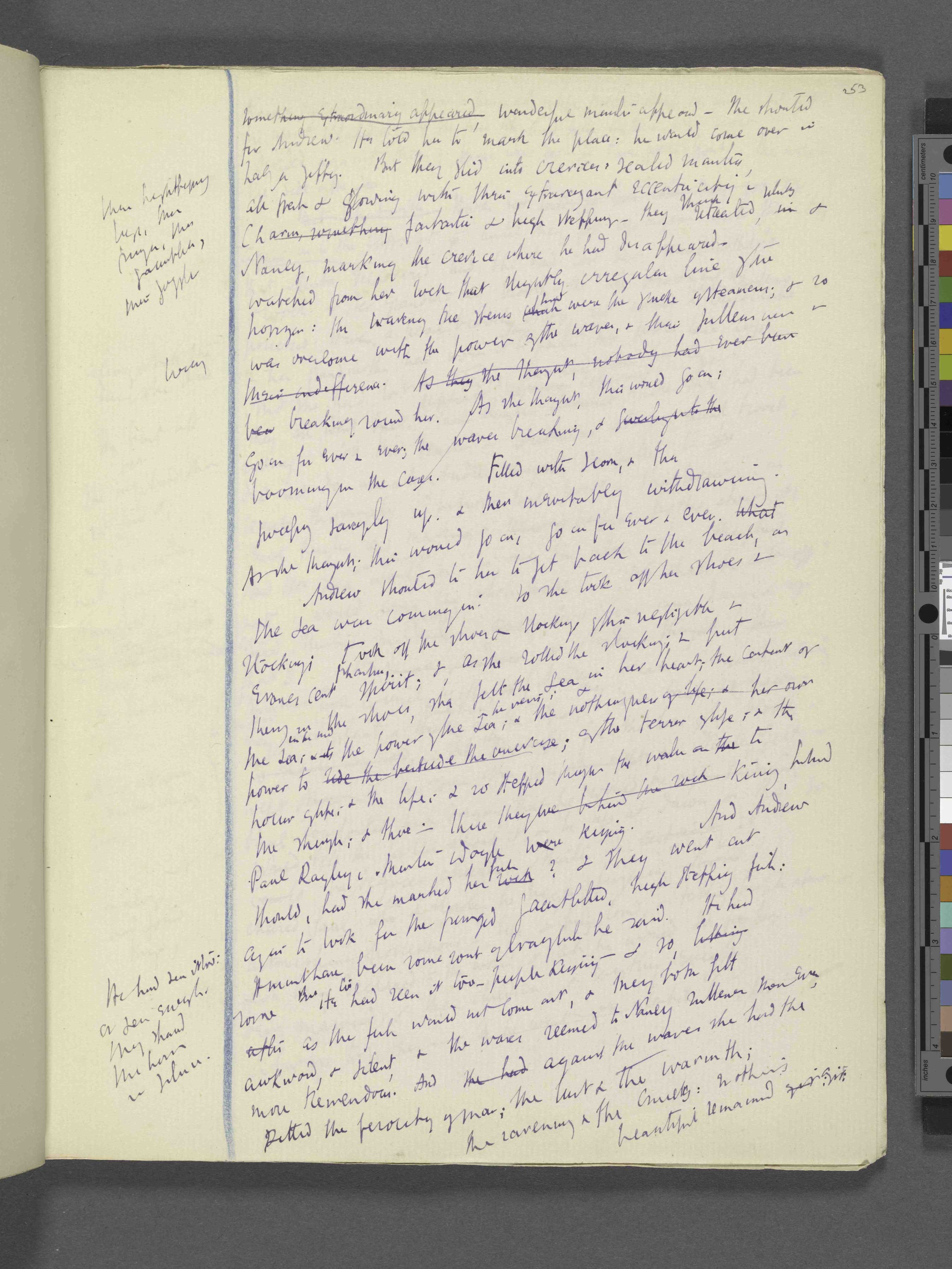 253
something extraordinary appeared,

wonderful ?marlins/?martins appeared - she shouted
for Andrew. He told her to mark the place: he would come over in
half a jiffy.
But they slid into crevices: ?scaled/?sealed ?marlins/?martins
all fresh & glowing with their extravagant eccentricity &
charm, something

fantastic & high stepping - they
shrank
silently
retreated,

in

a
Nancy marking the crevice where he had disappeared,
watched from her rock that slightly irregular line of the
their highstepping
legs, their
fringes, their
gauntlets,
their [?]
?being
horizon: the waving the stems

which
that
were the smoke of steamers; & so
was overcome with the power of the waves, & their sullenness &
their indifference.
As they she thought, nobody had ever been
been

breaking round her.

As she thought, this would go on;
go on for ever & ever; the waves breaking, & swirling into the
booming in the caves.
Filled with scorn, & the
sweeping savagely up & then inevitably withdrawing.
As she thought, this would go on, go on for ever & ever.

What
Andrew shouted to her to get back to the beach, as
the sea was coming in.
So she took off her shoes &
stockings; took off the shoes & stockings of this negligible &
phantom
evanescent
spirit; &
as she rolled the stockings & put
them in the
shoes, she felt the
sea in
her heart; the content of
in her veins
&
in her mind
the sea; &

its
the power of the sea; &
the nothingness

of life; & her own
power to

ride the

bestride the universe;
of the terror of life; & the
horror of life; & the life; & so stepped through the water on

the

to
the shingle; & there - there they

we behind the rock

kissing behind
Paul Rayley & Minta Doyle

were

kissing.
And Andrew
fish
should, had she marked her

rock
& they went out
again to look for the fringed gauntletted, high stepping fish:
He had seen it too:
& seen enough.
They shared
the horror
in silence
It must have been some sort of crayfish he said.
He had
?But
too
some
He had seen it
too - people kissing - & so,

letting
after

as the fish would not come out, & they both felt
awkward, & silent, & the waves seemed to Nancy sullener than ever,
more tremendous. And
she had

against the waves she had the
pitted the ferocity of man;
the lust & the warmth;
the ravening & the cruelty: nothing
beautiful remained

of it

of it.