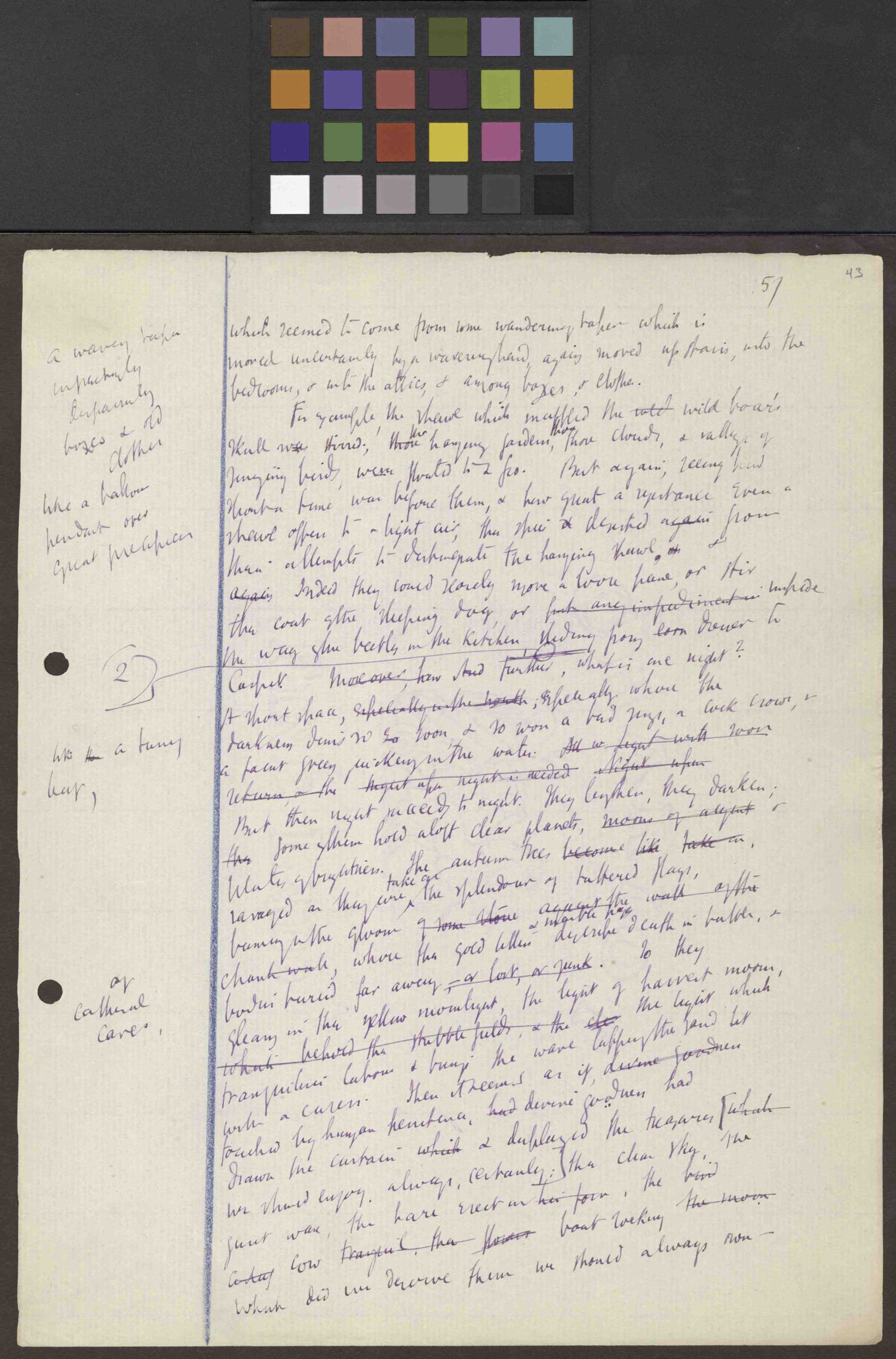 157
43
which seemed to come from some wandering taper which is
moved uncertainly by a wavering hand, again moved upstairs, into the
bedrooms, & into the attics, & among boxes, & clothes.
For example, the shawl which muffled the

wild

wild boar's
A wavery taper

These marginal notes appear to be side notes, trial thoughts, rather than wording intended to be embedded in the text. [Shillingsburg, P.]
[?]....ly
despairnly
boxes & old
clothes
like a
balloon
pendent over
great precipices
the
those
skull was stirred;

those

hanging garden,
those clouds, & valleys of
singing birds,

were

floated to & fro. But again, seeing how
short a time was before them, & how great a resistance even a
shawl offers to a light air, the spies

&

desisted

again

from
their attempts to distingrate[?] the hanging shawl

,[or?]

could be 'or' but I don't see 'ur'. [Shillingsburg, P.]
&
again

Indeed they could scarcely move a loose pane, or stir
the coat of the sleeping do, or

put any impediment in
impede
the way of the beetles in the kitchen,

It is possible that the 2 in the margin with a line drawn to this point in the MS, is an indication that 'like a turning leaf' should go here, after 'kitchen' rendering: 'Impede the way of the beetles in the kitchen, like a turning leaf, sliding from dresser to carpet.' Alternatively, it could be an indication of a new paragraph beginning with 'Further', with the insertion coming later, after 'soon', as indicated in this transcription. [Shillingsburg, P.]

sliding from

corn

dresser to
2
carpet.

Moreover, how And

Further, what is one night?
A short space,

especially in the north

; especially where the
darkness dims so

so

soon, & so soon a bird sings, a cock crows, &
like

the
a turning
leaf,
a faint green quickens in the water.

All w Light will soon
return, & the night upon night is needed[?].
succeeded???? acceeded??? [Shillingsburg, P.]
Night upon
But then night succeeds to night. They lengthen, they darken;
the

some of them hold aloft
clear planets,

moon of argent

&
plates of brightness.
The autumn trees

become

like

take on

,
take on
ravaged as they are & the splendour of tattered flags,
burning in the gloom

of some stone against the wall of the
& marble pages
church wall

, where the gold letters describe death in battle, &
of
cathedral
caves
bodies buried far away

, - or lost, or sunk.

So they
gleam in the yellow moonlight, the light of harvest moons,
which behold the stubble fields, & the cle[?]
could be 'di' See divine [Shillingsburg, P.]
the light which
tranquilises labour & brings the wave lapping the sand

lit
with a caress.
Then it seems as if,

divine goodness
touched by human penitence, had divine goodness had
drawn the curtain

which

& displayed the treasures [

which
we should enjoy always, certainly:] the clear sky, the
quiet wave, the hare erect in

his form,
the

bird
[?]

cow

tranquil, the flowers

boar rocking

the moon
which did we deserve them we should always own -