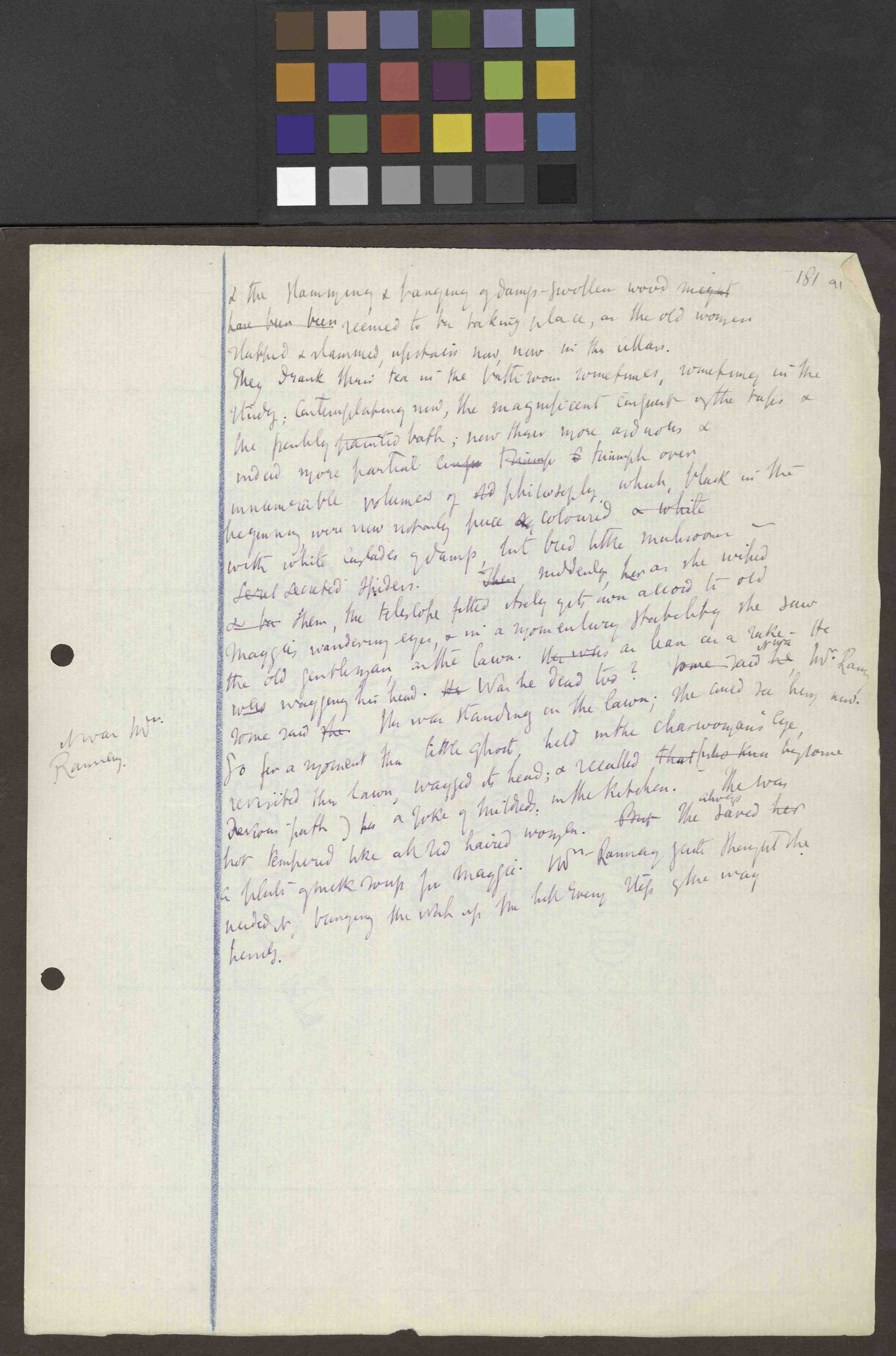 181
91
& the slamming & banging of damp-swollen wood

might
have been

been

seemed to be taking place, as the old women
slapped & slammed, upstairs now, now in the cellar.
They drank their tea in the bathroom sometimes, sometimes in the
study; contemplating now, the magnificent conquest of the taps &
the freshly painted bath; now their more arduous &
indeed more partial

conq

triump

c

triumph over
innumerable volumes of

old

philosophy which, black in the
beginning, were now not only puce

[?]

coloured

& white
with white cascades of damp, but bred little mushrooms -
seret

secreted spiders.
Then,

suddenly,

her

as she wiped
& ba

them, the telescope fitted itself of its own accord to old
Maggie's wandering eyes, & in a momentary stability she saw
the old gentleman, on the lawn.

He was

as lean as a rake - He
it wa
was

wagging his head.

He

Was he dead too?
Some

said

he,
Mr. Ramsay
it was Mr.
Ramsay.
some said

she

He was standing on the lawn;
she could
see him now.
So for a moment the little ghost, held in the charwoman's eye,
revisited the lawn, wagged its head; & recalled

that

(

who kne

by some
devious faith)

he

a joke of Mildreds in the kitchen.
She was
always
hot tempered like all red haired women.

But

She saved

her
a plate of milk soup for Maggie. Mrs. Ramsay quite thought she
needed it, bringing the wash up the hill every step of the way
herself.