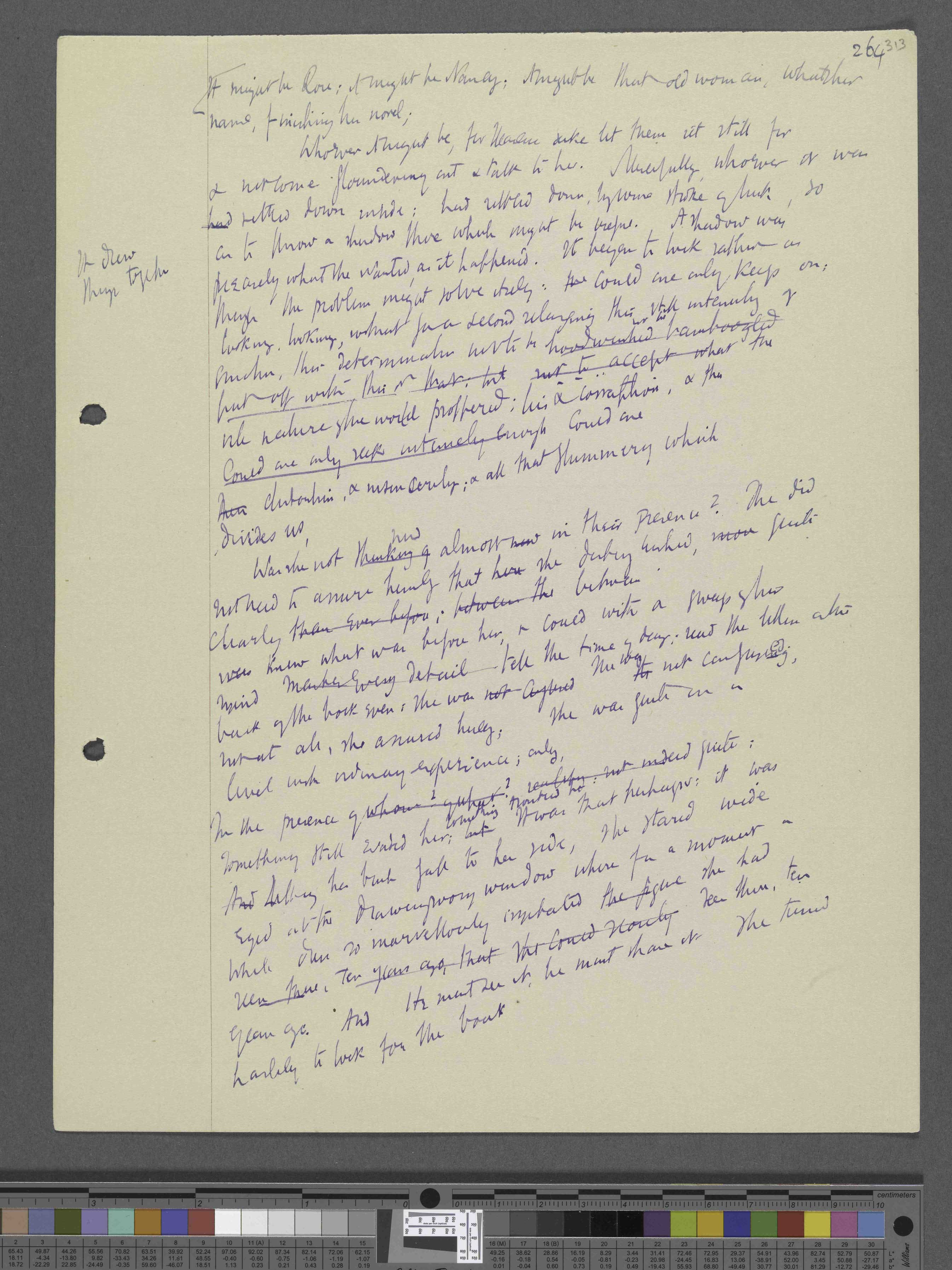 264
313
[It might be Rose; it might be Nancy; it might be that old woman, whats her
name, finishing her novel;
Whoever it might be, for Heavens sake let them sit still for
& not come floundering out & talk to her.
Mercifully, whoever it was
had

settled down inside;
had settled down, by some stroke of luck,
so
as to throw a shadow there which might be useful.
A shadow was
precisely what she wanted, as it happened.
It drew
things together
It began to look rather as
though
the problem might solve itself:
she

could one only keep
on;
looking, looking, without for a second relaxing this still intensity of
emotion, this determination not be

hoodwinked

bamboozled
not to be
put off with this or that, but
not to accept

what the
vile nature of the world proffered; lies & corruption, & the
Could one only seek intensely enough

Could one
Then

distortion, & insincerity; & all that flummery which
divides us,
now
Was she not

thinking of

almost

now

in their presence?
She did
not need to assure herself that

here

she [?] ?wished,

more

quite
clearly t

han ever before;

between the

between
was

knew what was before her, & could with a sweep of her
mind

master every detail

tell the time of day: read the letters on the
back of the book even: she was

not confused
She was
Its

not confus

ing

ed
not at all, she assured herself;
she was quite on a
level with ordinary experience; only,
In the presence of

whom? of what?
reality: not indeed

quite:
something troubled her
something still evaded her;

but
It was that perhaps: it was
And letting

her brush fall to her side,
she stared
wide
eyed at the drawingroom window where for a moment a
white dress so marvellously imitated

the figure

she had
seen there,
ten years ago, that she could scarcely
seen there, ten
years ago. And
He must see it, he must share it.
She turned
hastily to look
for the boat;