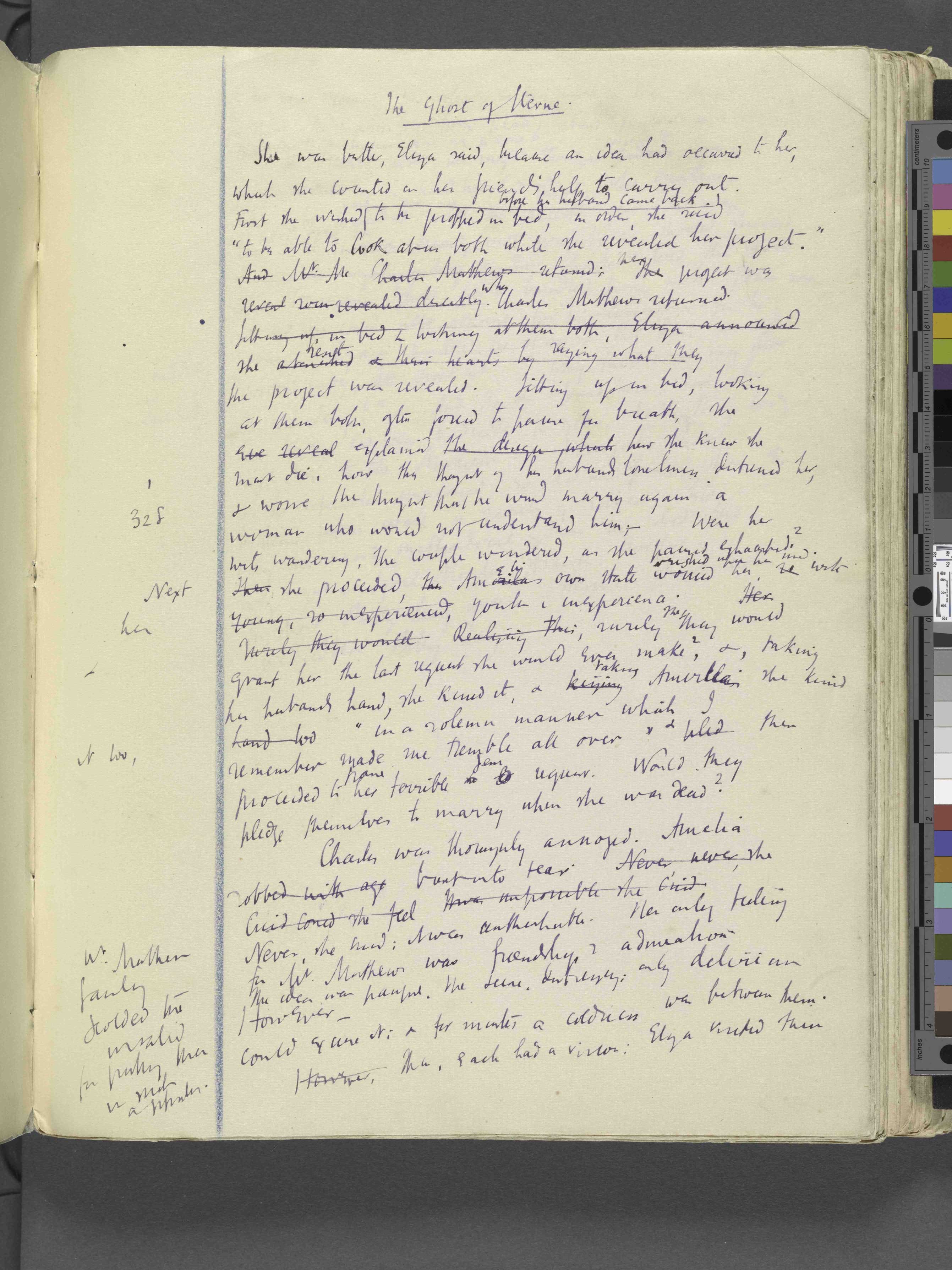 The Ghost of Sterne
She was better, Eliza said, because an idea had occurred to her,
which she counted on her friends' help to carry out.
before her husband came back
First she wished to be propped up in bed, in order, she said
"to be able to look at us both while she revealed her project."
And Mr Mc

Charles Mathews returned;
her
The project was
reveal soon revealed directly
when
Charles Mathews returned.
Sitting up in bed & looking

at them both, Eliza announced
rent
She astonished

& their hearts by saying what they
The project was revelaed.
Sitting up in bed, looking
at them both, often forced to pause for breath,
she
eve reveal

explained

the design which

how she knew she
must die, how she thought of her husbands loneliness distressed her,
& more the thought that he would marry again a
328
woman who would not understand him

;
Were her
Wits wandering, the couple wondered, as she paused exhausted.
Next
Then

she proceeded,

the

Amor

rilas

own state worried
weighed upon her mind
her,
so

with
her
young, so inexperienced

, youth & inexperience.
Her
surely they would
Realising this

, surely they would
she
grant her the last request she would ever make,
&, taking
her husbands hand, she kissed it, &

kissing
taking
Amerllis
she kissed
it too,
hand too
"in a solemn manner which I
remember made me tremble all over"
&
?pled
then
frame
[?]
proceeded to her terrible

n

a request.
Would they
pledge themselves to marry when she was dead?
Charles was thoroughly annoyed. Amelia
sobbed with ag

burst into tears.
Never, never, she
cried could she feel
It was impossible she cried
Mr Matthew
fairly
scolded the
invalid
for putting them
in such
a ?position
Never she cried; it was unthinkable.
Her only feeling
for Mr Mathew was friendship & admiration.
The idea was painful, the scene distressing; only delirium
However -
could excuse it; &
for months a coldness
was between them.
However

,
Then, each had a vision:
Eliza visited them